Discourse, a multi-faceted parkour gathering in Los Angeles, is changing the conversation on parkour events through the intersection where movement and art meet.
If you had asked me to imagine what a parkour jam would look like ten years in the future while I was attending my first Beast Coast Jam in 2013, there's no way I could have pictured Discourse today. Discourse 2023 was a three-day gathering with a focus on displaying the art of parkour practitioners through movement, a gallery, live music, and film screenings. It is a place where our passion sparks creation in a variety of forms. Since I didn't get the chance to attend the previous one, I was very excited to go and see what it was all about. After being away from LA for 5 years, I landed, dropped my stuff off at a friend's apartment, and was ready for three days of jamming!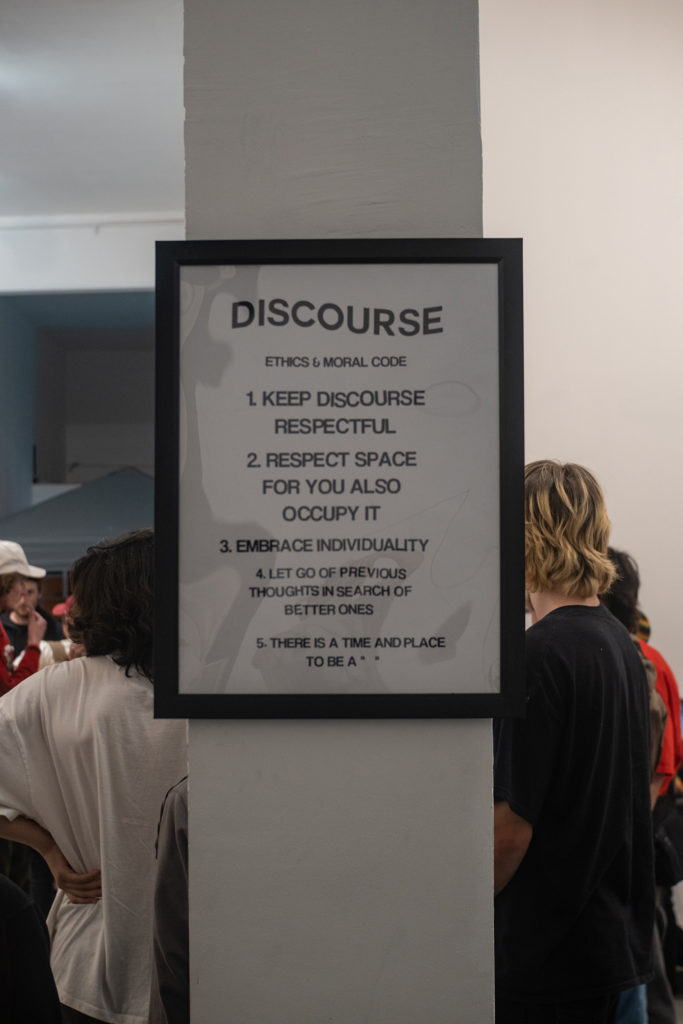 The first spot was big — large enough to accommodate the overabundance of wonderful faces in attendance. As an East Coast boy, it definitely challenged me to be more creative and find ways to enjoy this new space, as the architecture was far different than what I am accustomed to. As you walked up to the park, you were greeted by these big spread-out stone rectangles that were most likely used for seating to accommodate anyone who came by. At the top end of the area, you'd see the early birds — parkour practitioners who actually arrived on time, a rare sight indeed. The stone steps were being flipped down, and corners were used to change direction. After stashing our belongings in the shade, everyone set out to explore. There was a huge wall with an inscription about a dead guy being lached to and jumped from. Eventually, as we do when there's a wall with more on the other side, we climbed over and found that the spot had even more to offer us. With some classic wheelchair-accessible walls, I felt more at home. The walls may have been dusty as hell, but that definitely didn't stop us. Training for hours with so many wonderful faces fostered the classic jam vibes, and with that alone, I would've been happy. But what made Discourse special and distinct from other events—and what I think we should do more of—happened after the jamming.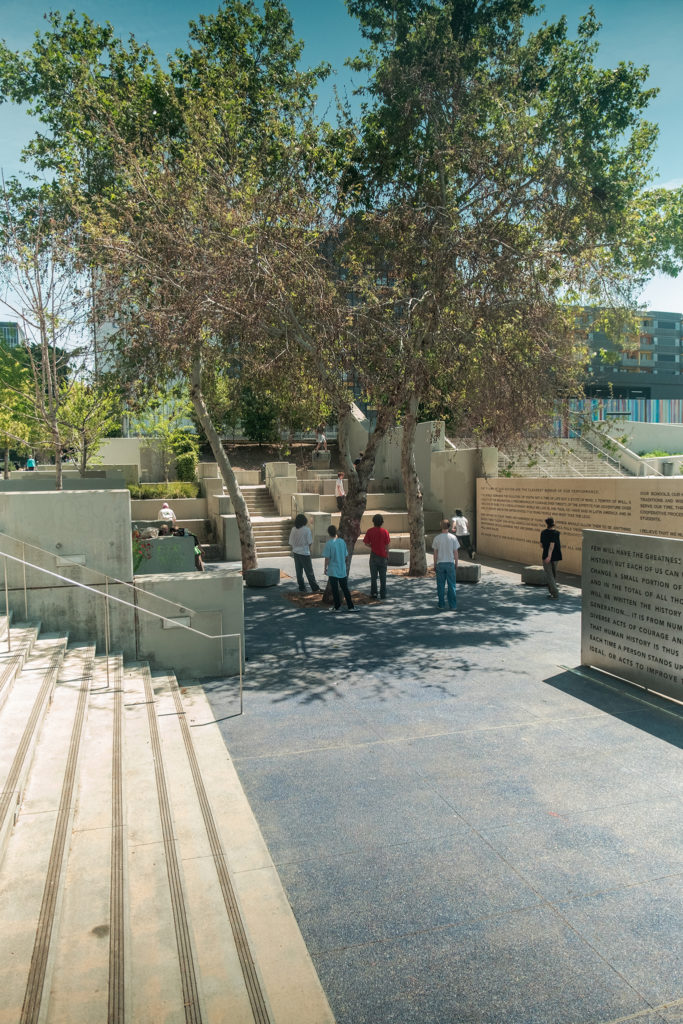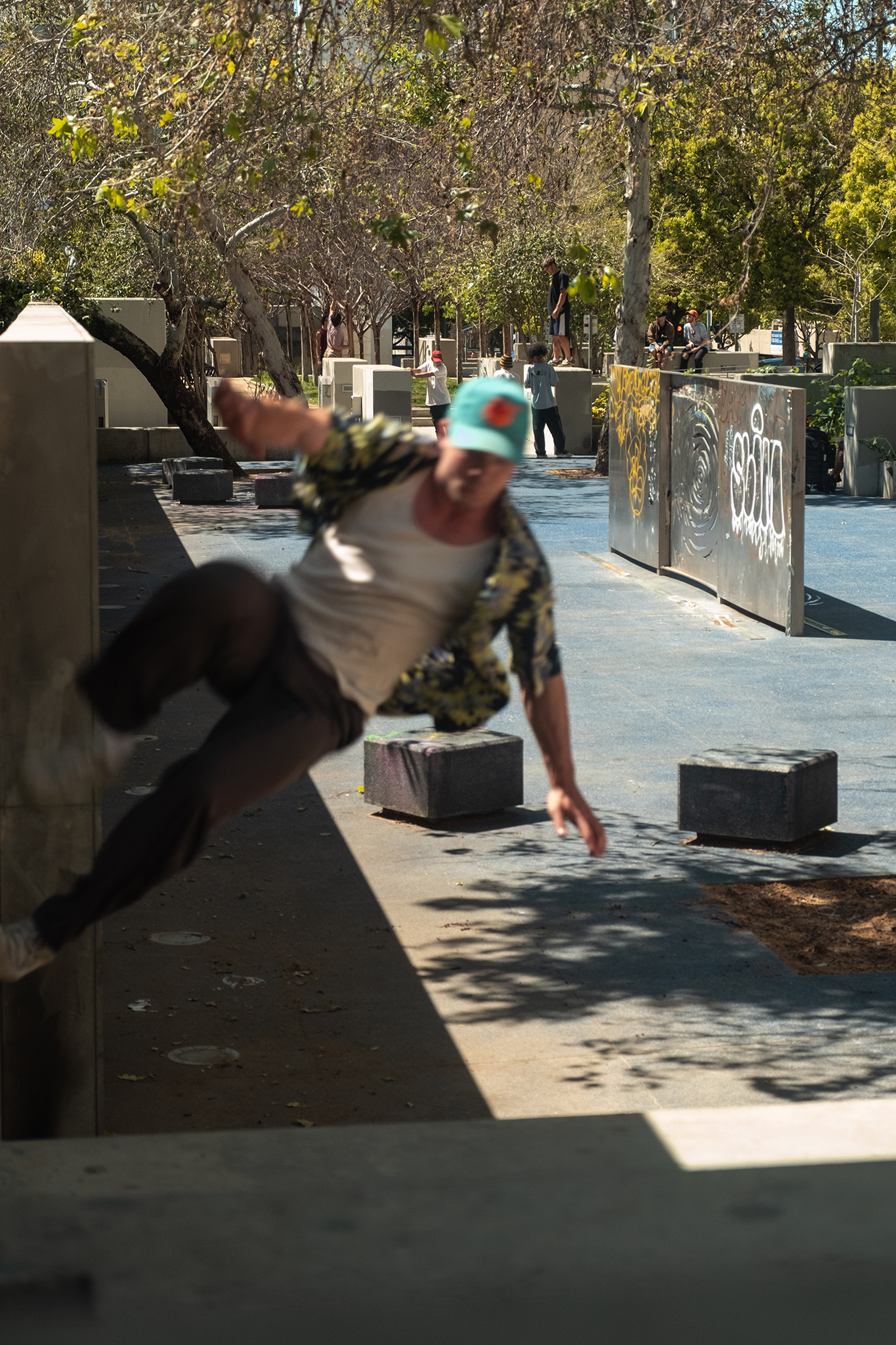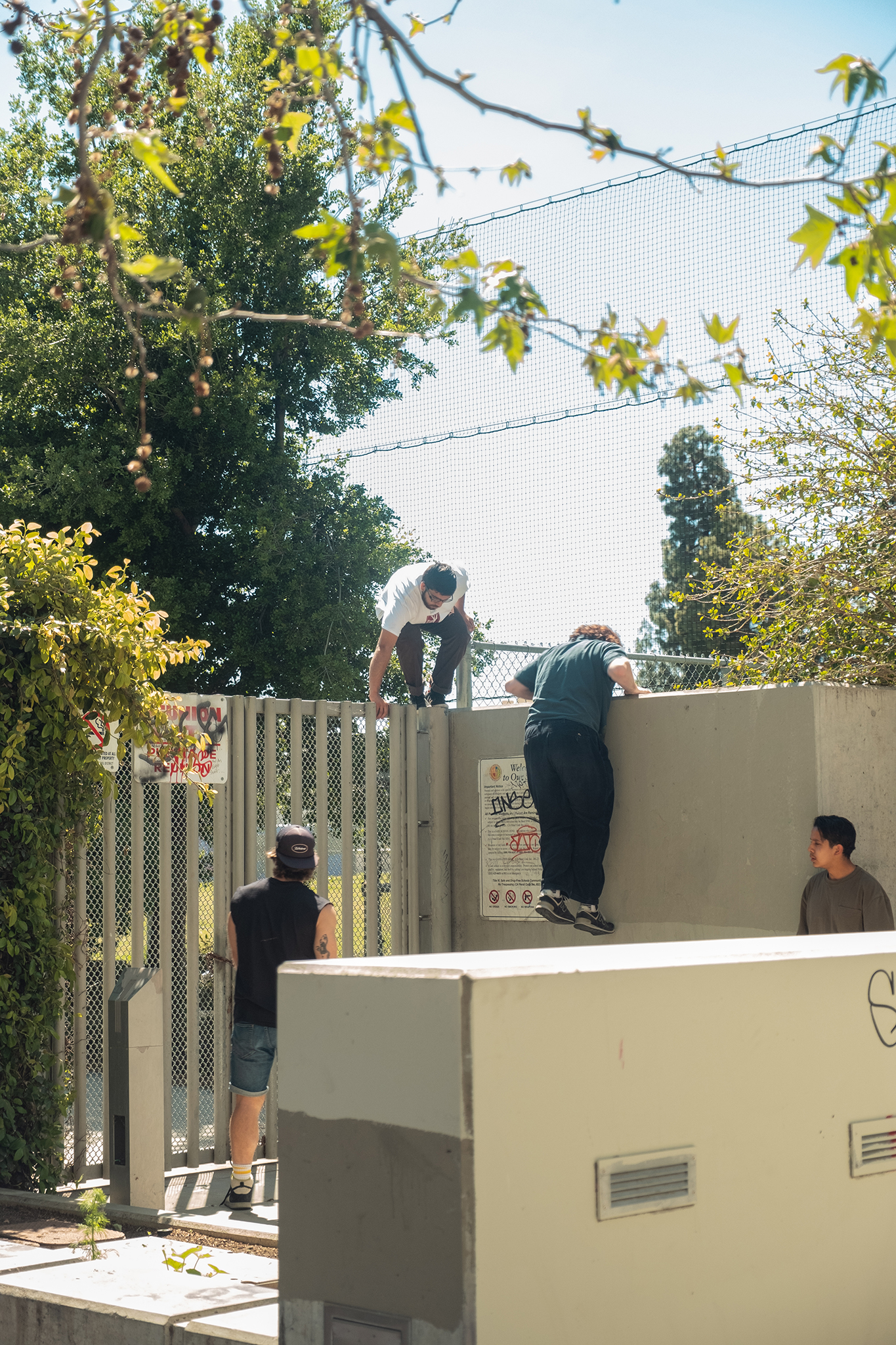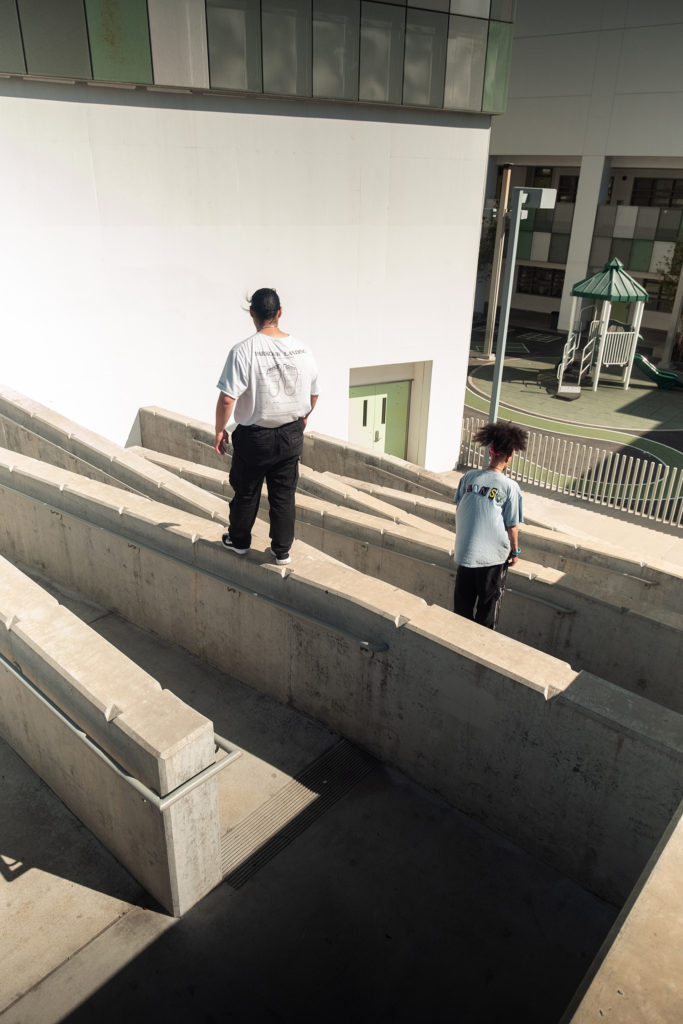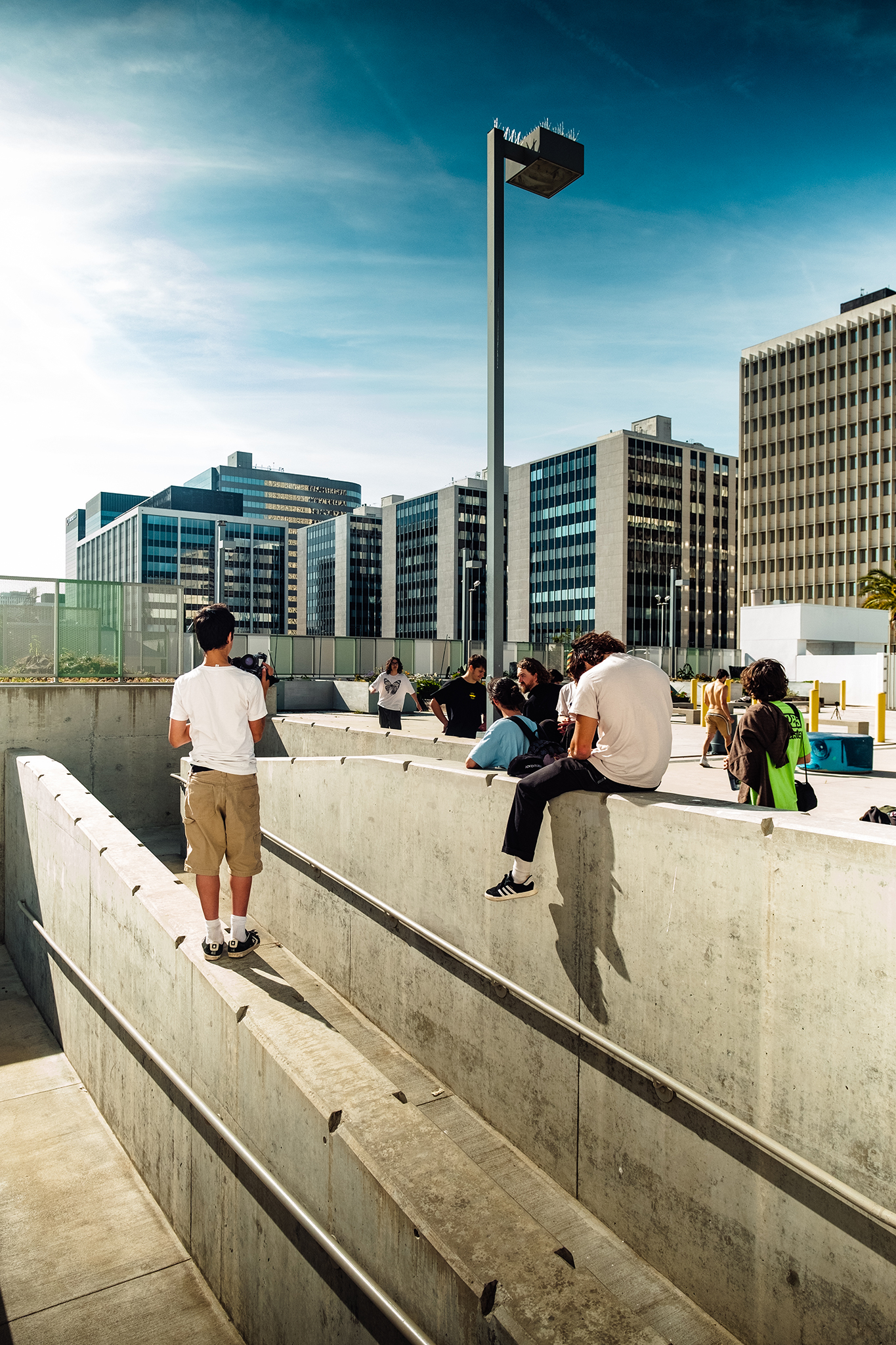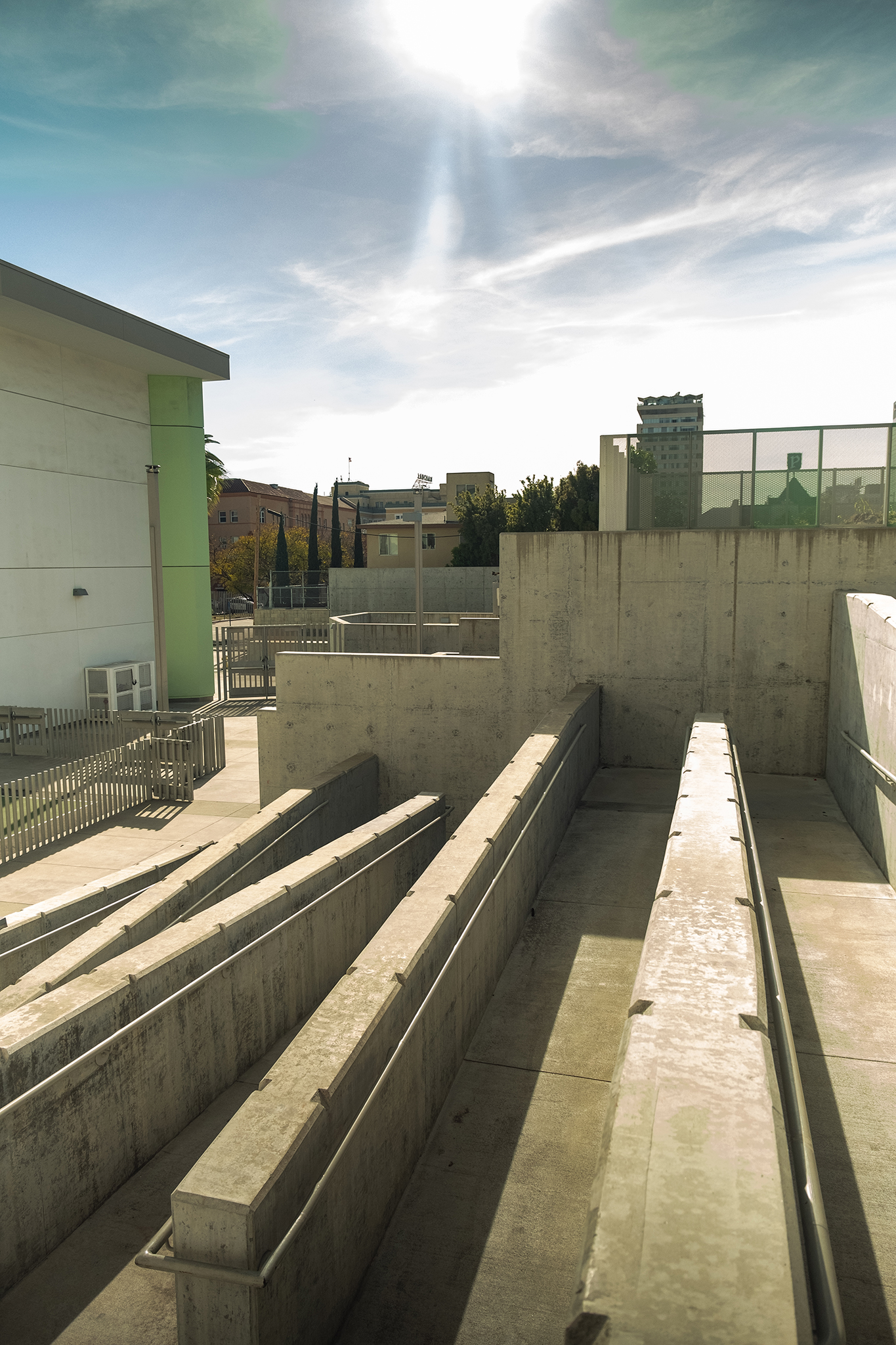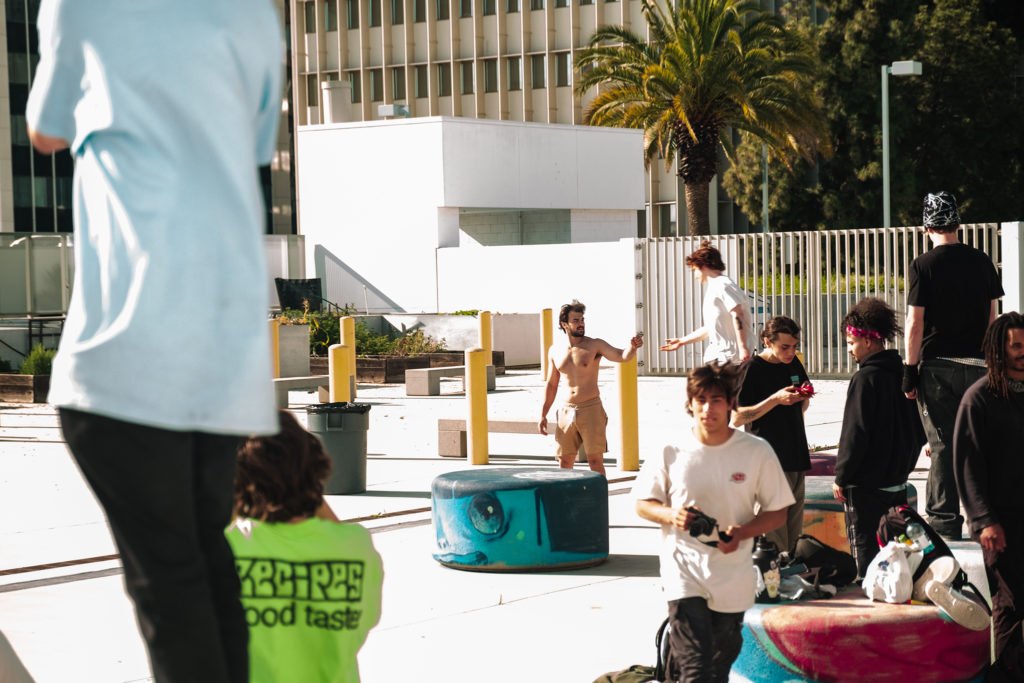 Later that night, there was a gallery displaying the amazing works of artists such as Niko Selski, Noah Heath, Pablo Escudero, Ryan Kelly, and Yaron Erkin. Niko featured some of their art as prints alongside clothing that was customized with their personal designs. There were a few photos by Noah alongside a small sculpture of what I would describe as a fantasy nature spot where he had a notebook asking onlookers to write down what they would do if they had the chance to enjoy the space with movement or otherwise. Pablo shared some of his lovely documentary-style photographic works. An interactive "build your own sculpture" exhibit was set up by Ryan for all to use, offering unique shapes to challenge you to make something your own. Last but certainly not least, Yaron's work featured a clip from the film Hazel alongside a microphone that picked up the noise around it. On one side, the full clip played in a loop, and that same clip was mirrored, only progressing as the room got louder. You could come up, clap your hands a couple of times, and see the clip play through from the sound interaction or just enjoy the original clip.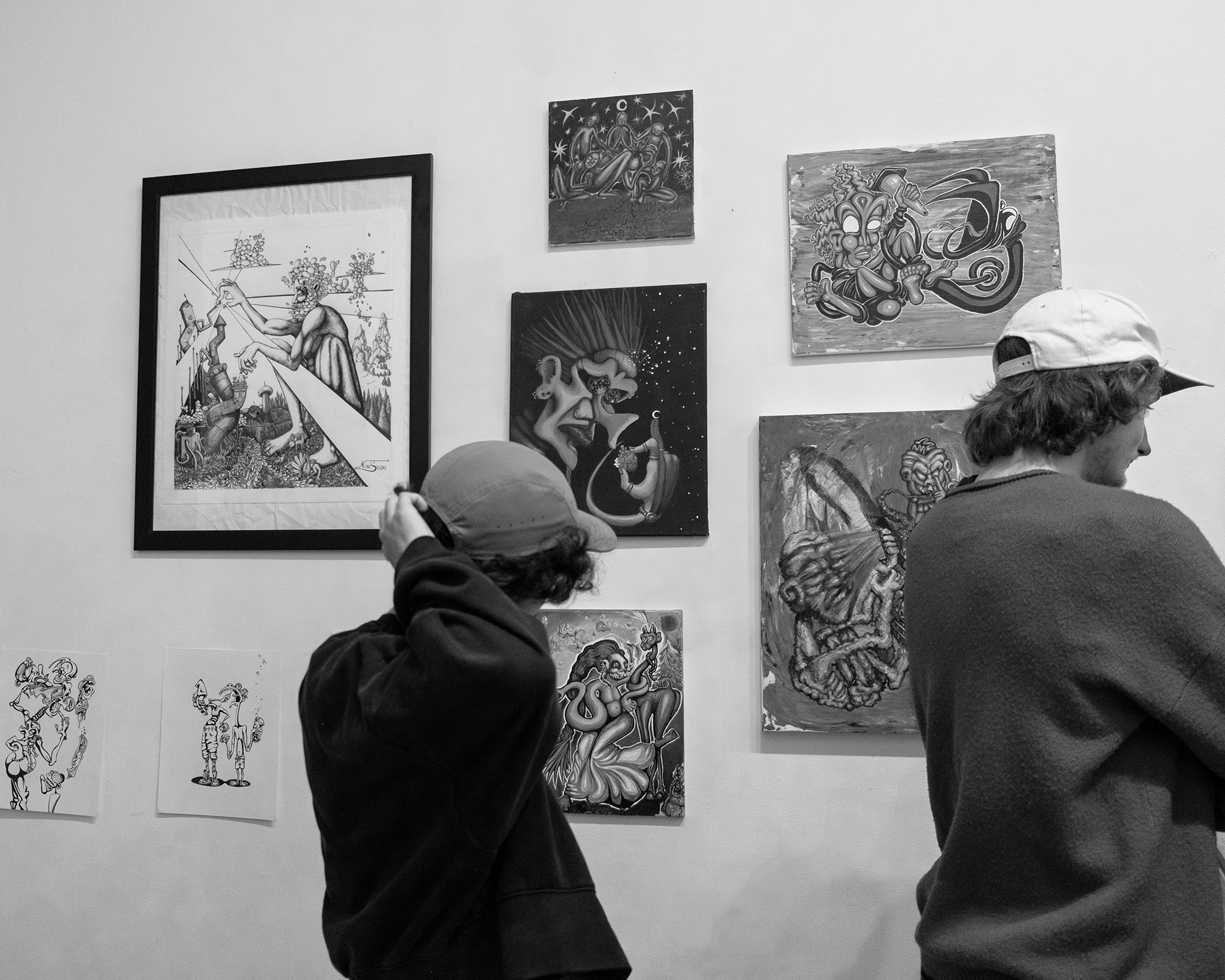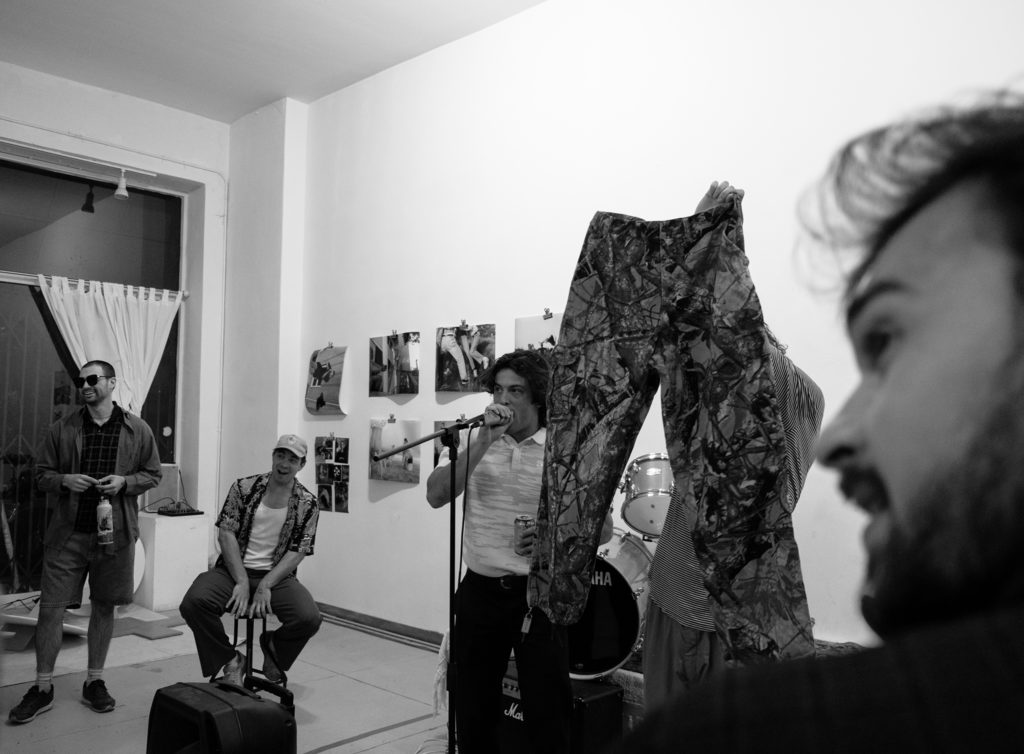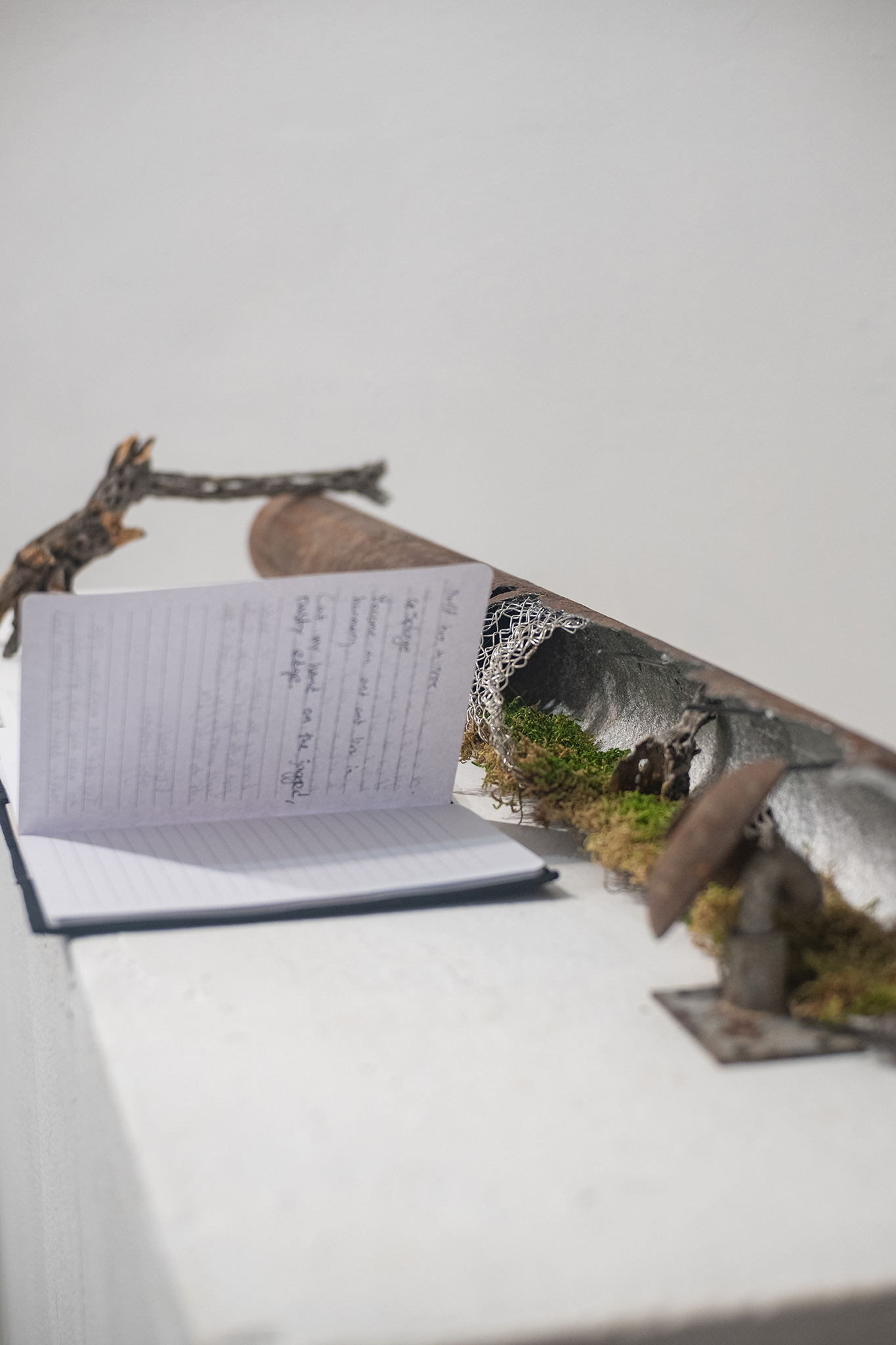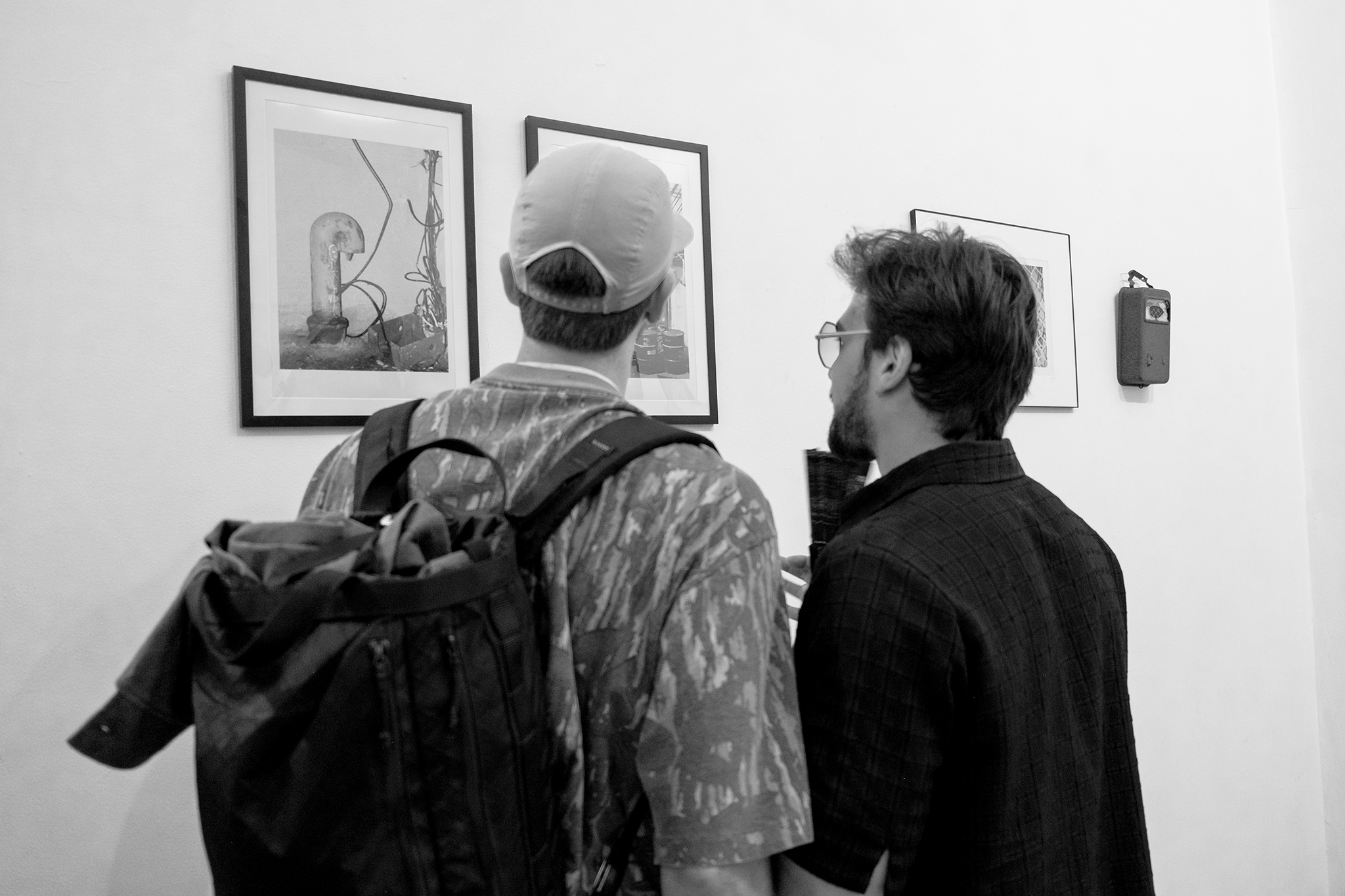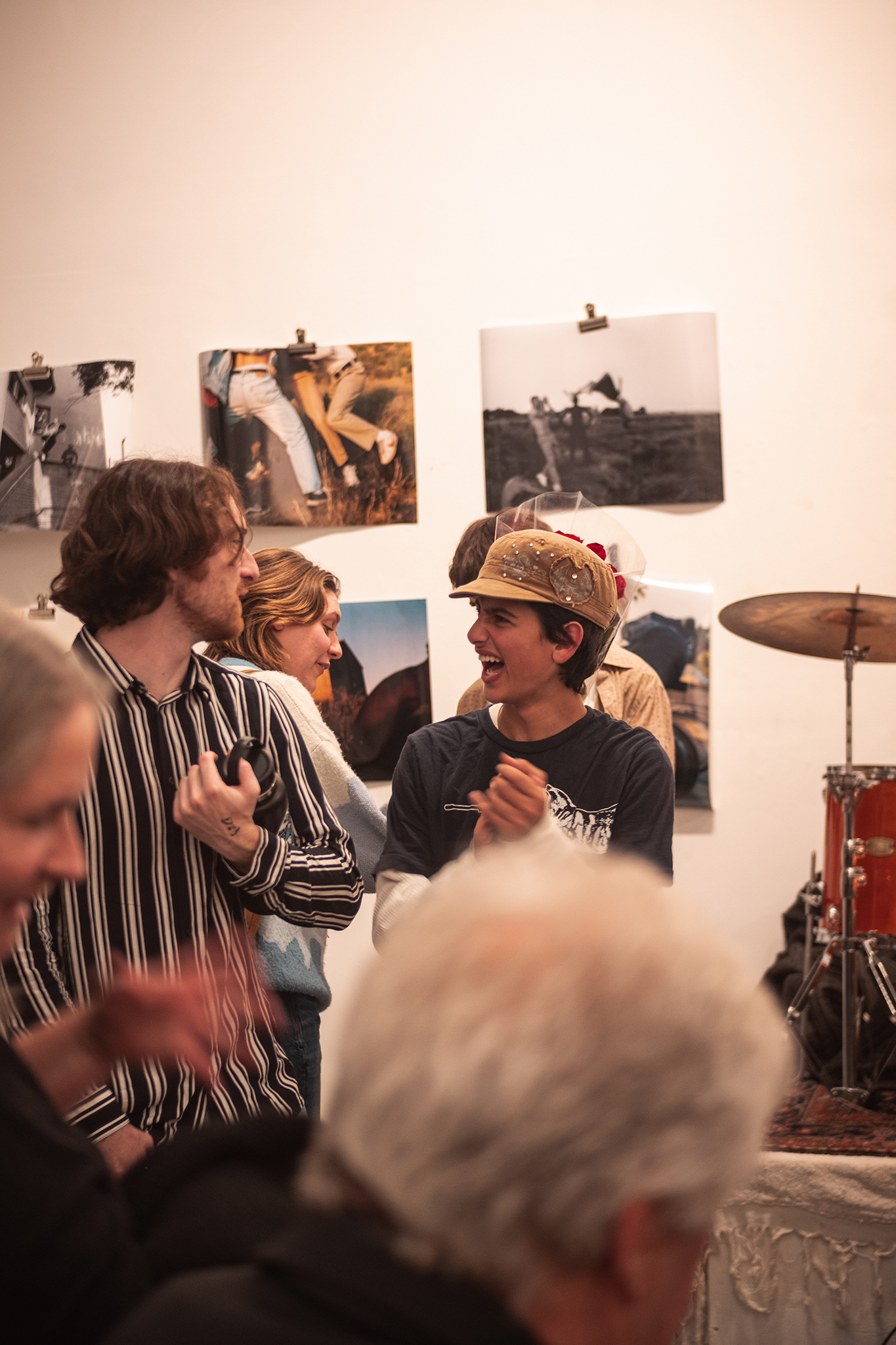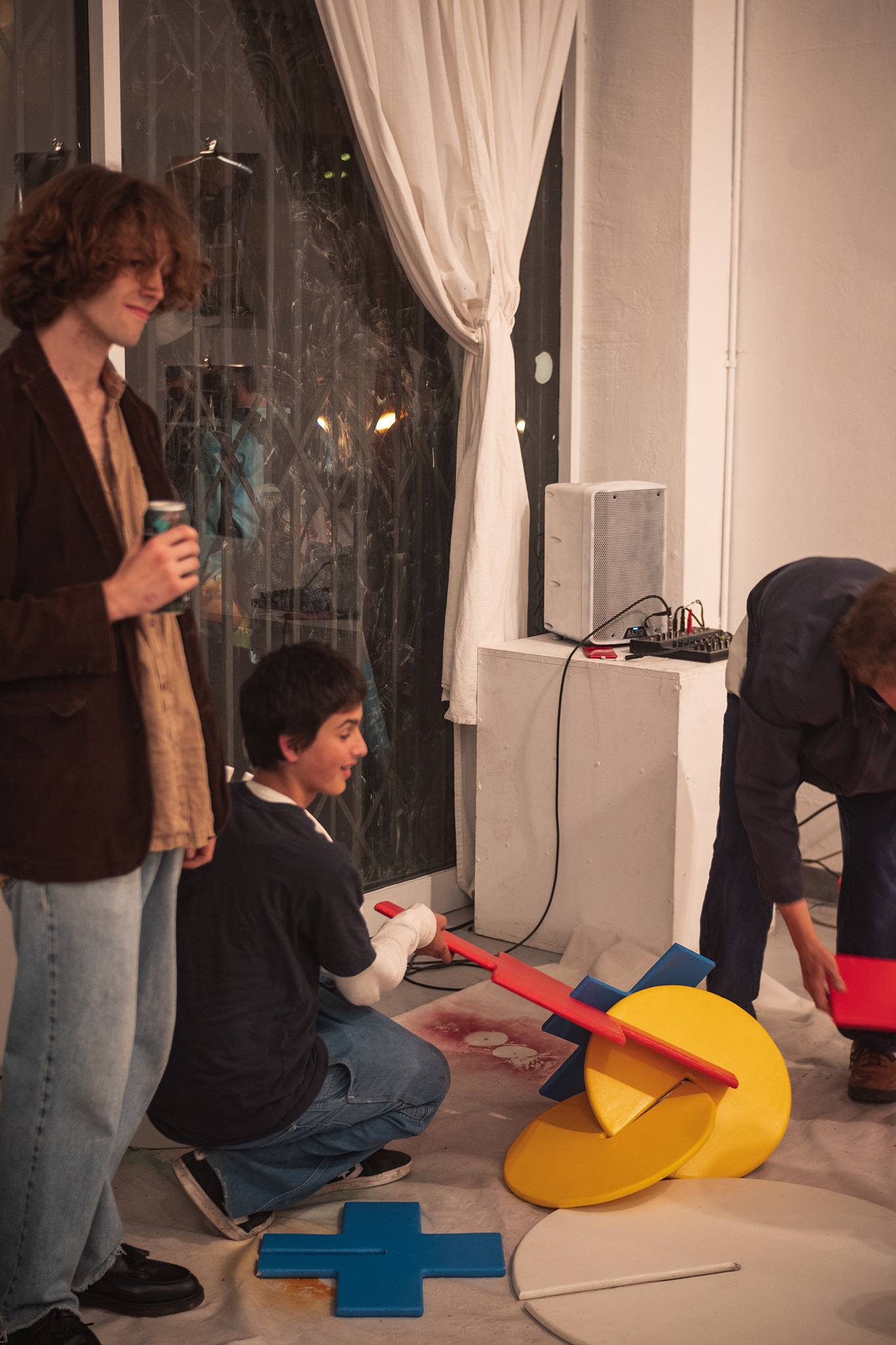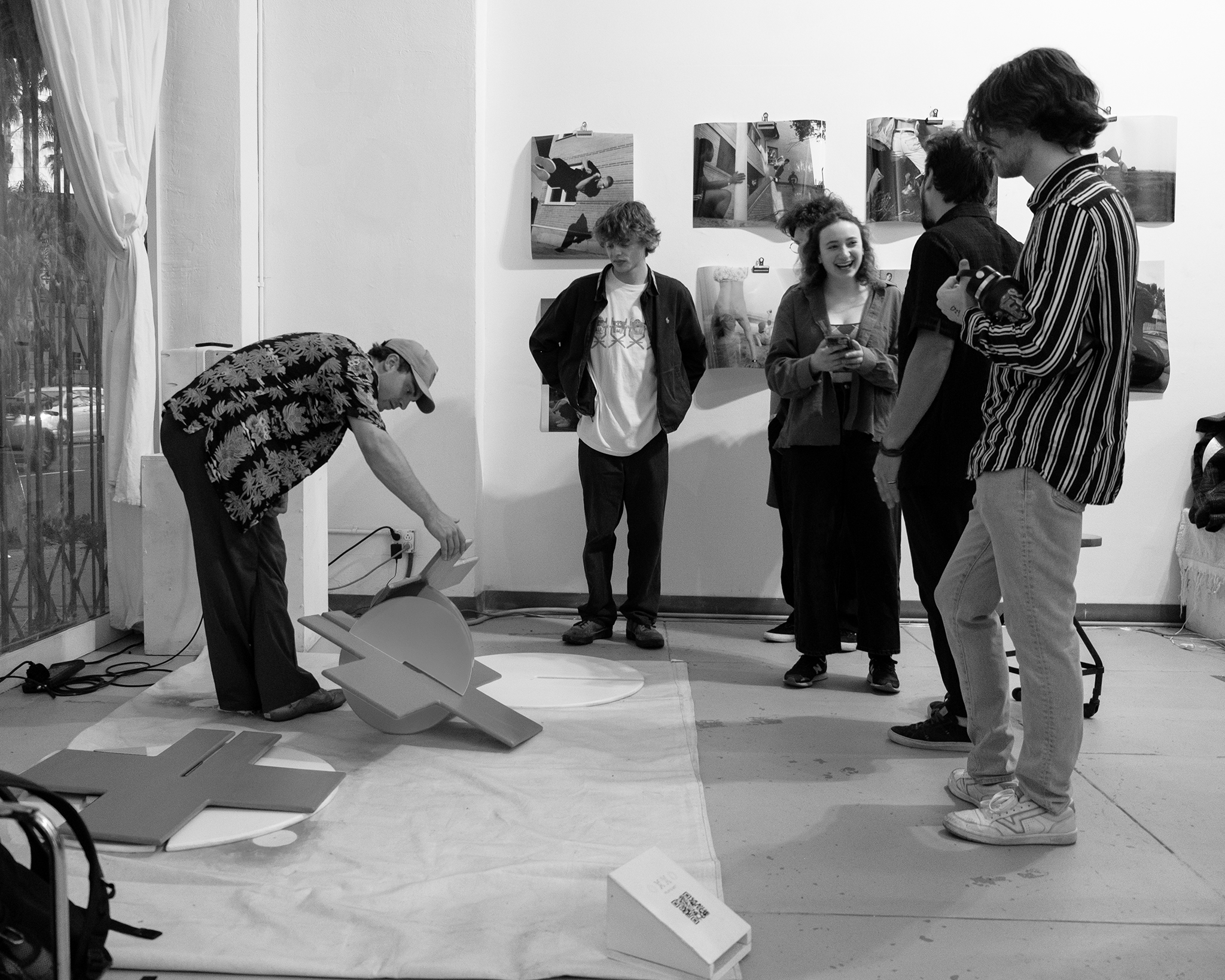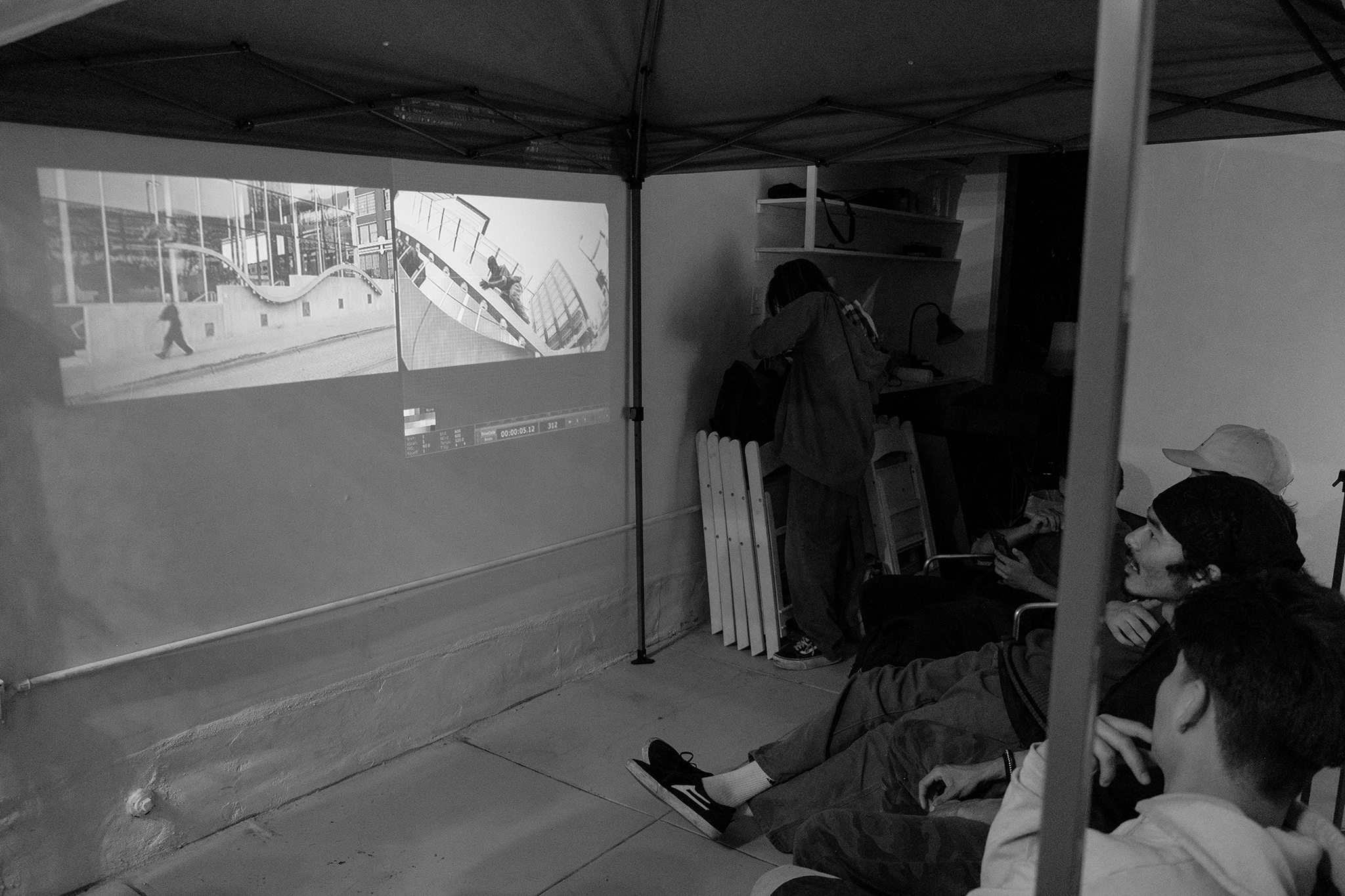 After giving everyone a chance to take in everything the gallery had to offer, there were a series of great live musical performances for all to enjoy. Gabe Le Neveu, a member of the Beans, came up to the mic — a goofy and nervous soul ready to share their lovely voice alongside the soft sounds of a complimentary guitar. After Gabe's solo act, they were joined by Bryan Arevalo, Rocco DeLeo, and Wyatt Pace, one of the organizers of the event. Known as Search For The Yeti, they brought more funk and jam band feels, with Wyatt and Gabe going back and forth with call-and-response guitar riffs. Getting the crowd going and setting the scene for the night, a pit started, and watching Davis Vasconcellos jump in and light up the dance floor was only the beginning. They were followed up by Josh Miller and Jake Hlad's Stellaruse, an amazing duo with a mix of hype drums, guitar, and passionate vocals, rocking out the tunes of an unreleased album.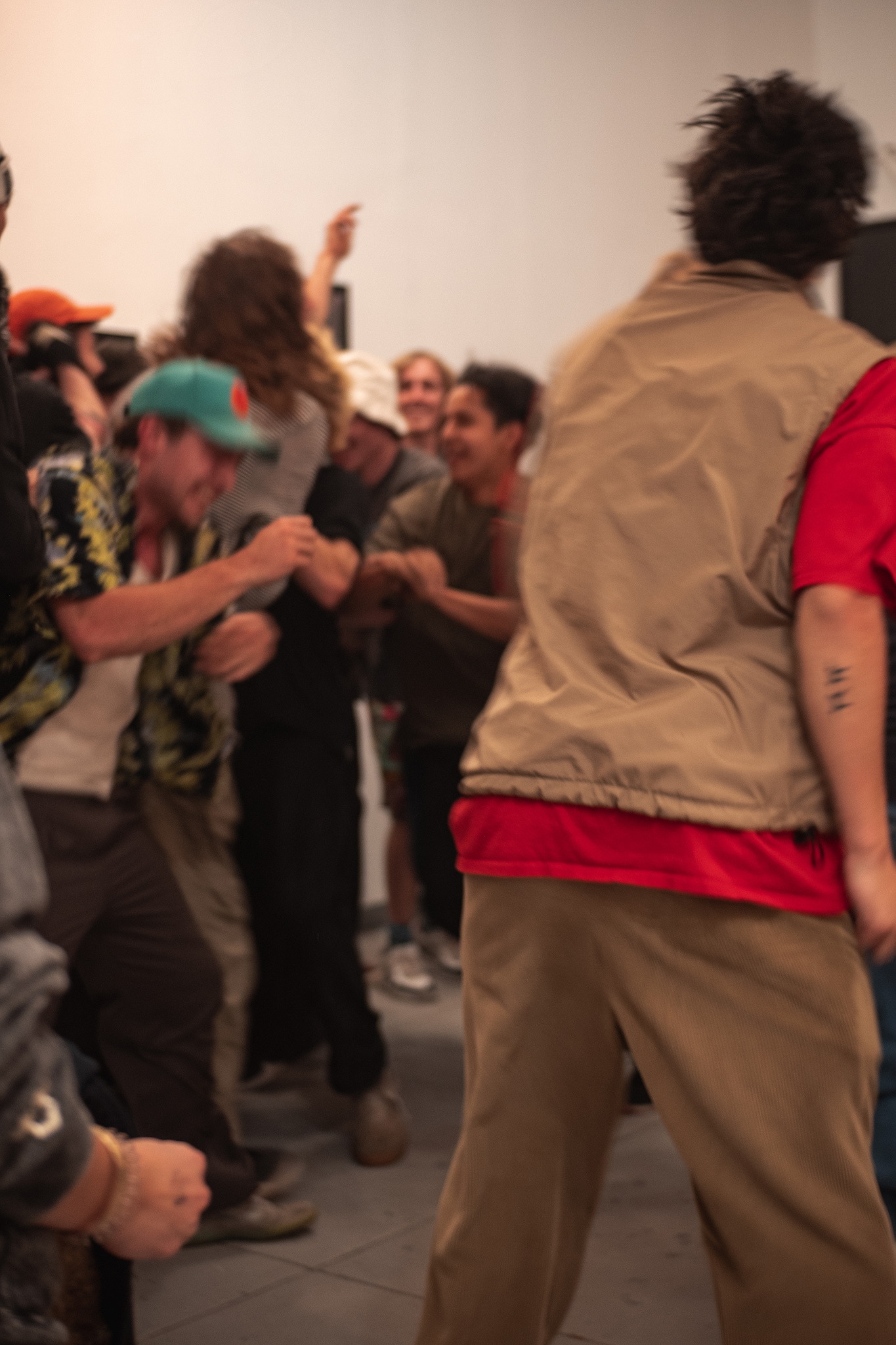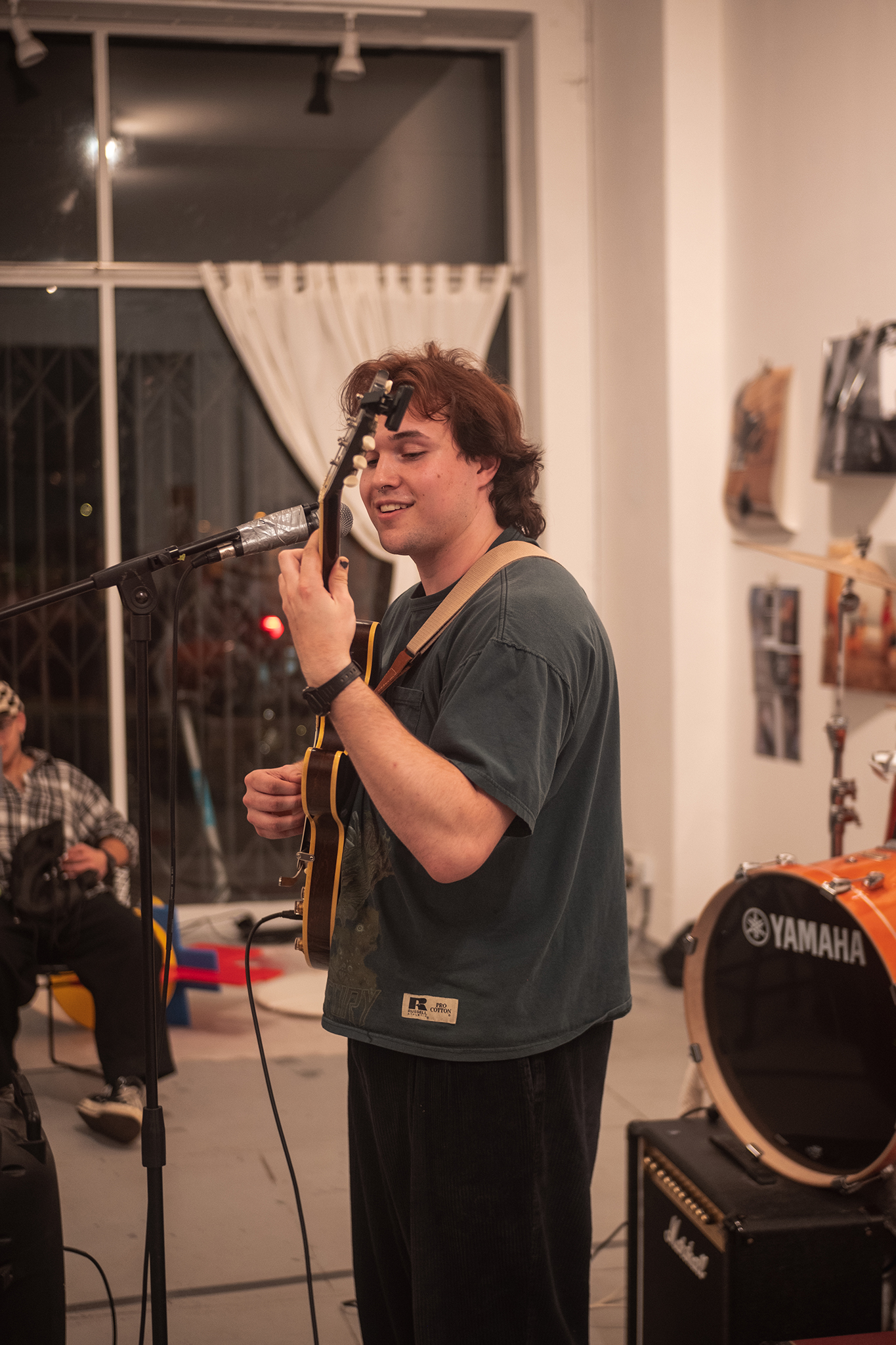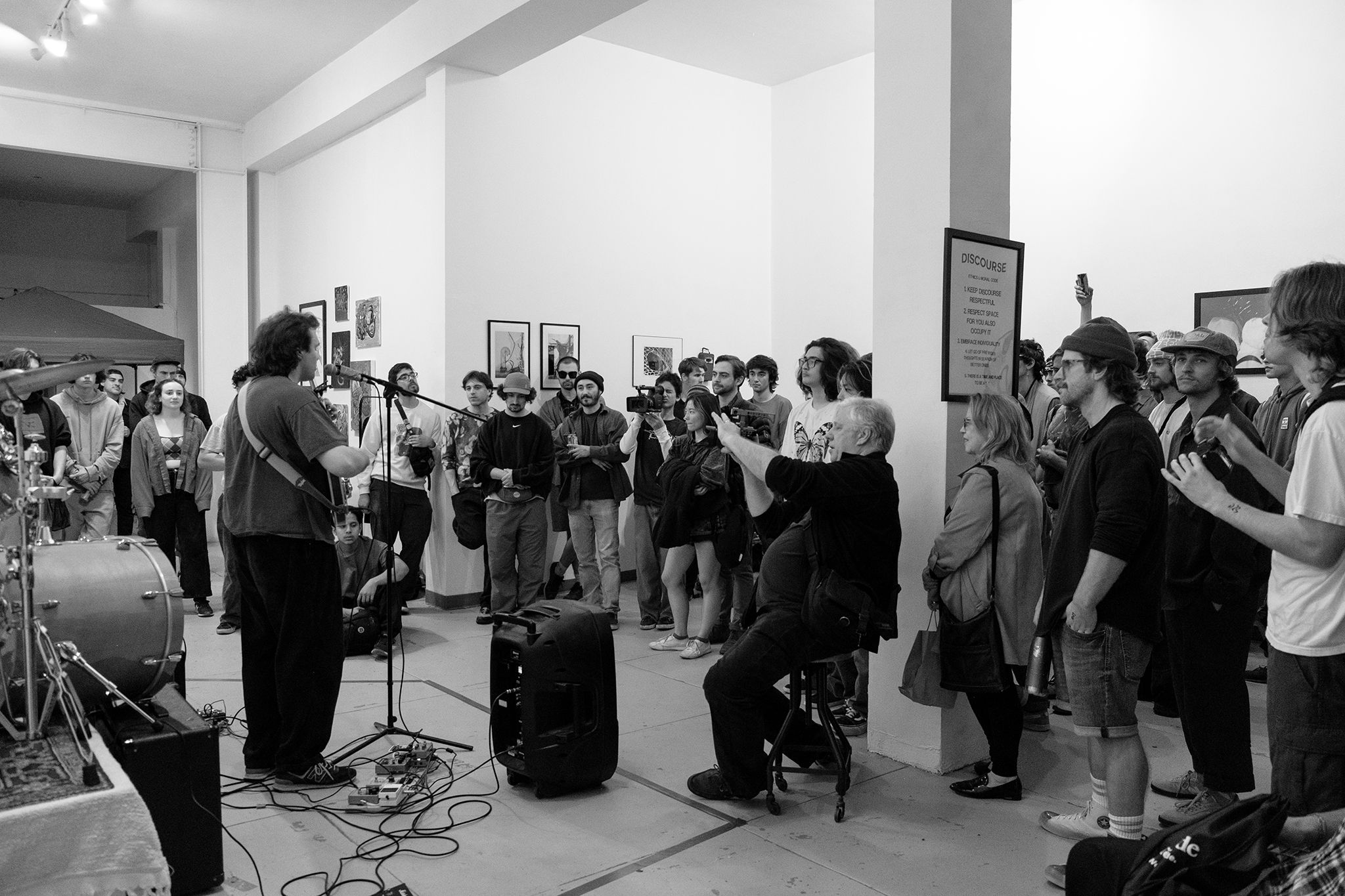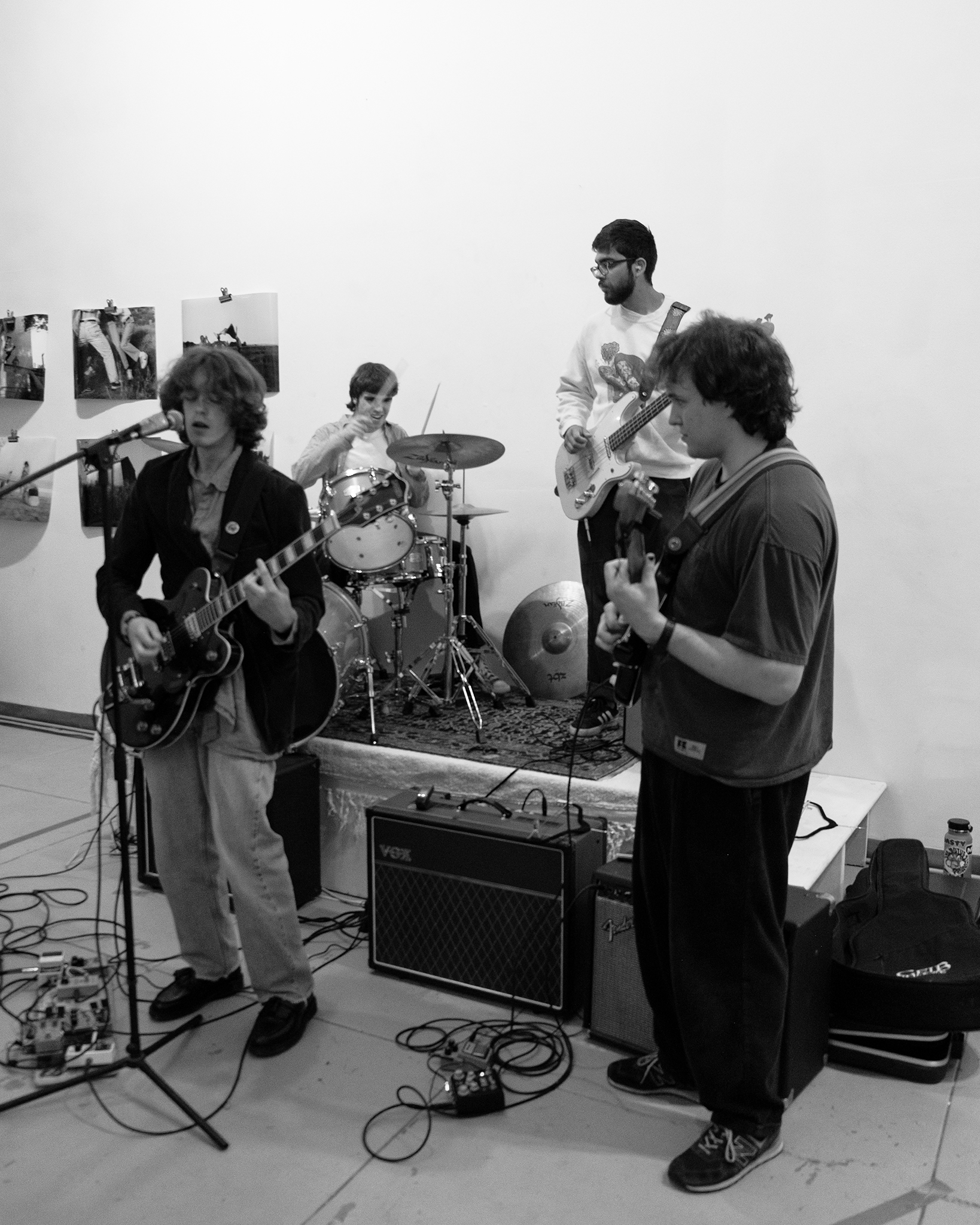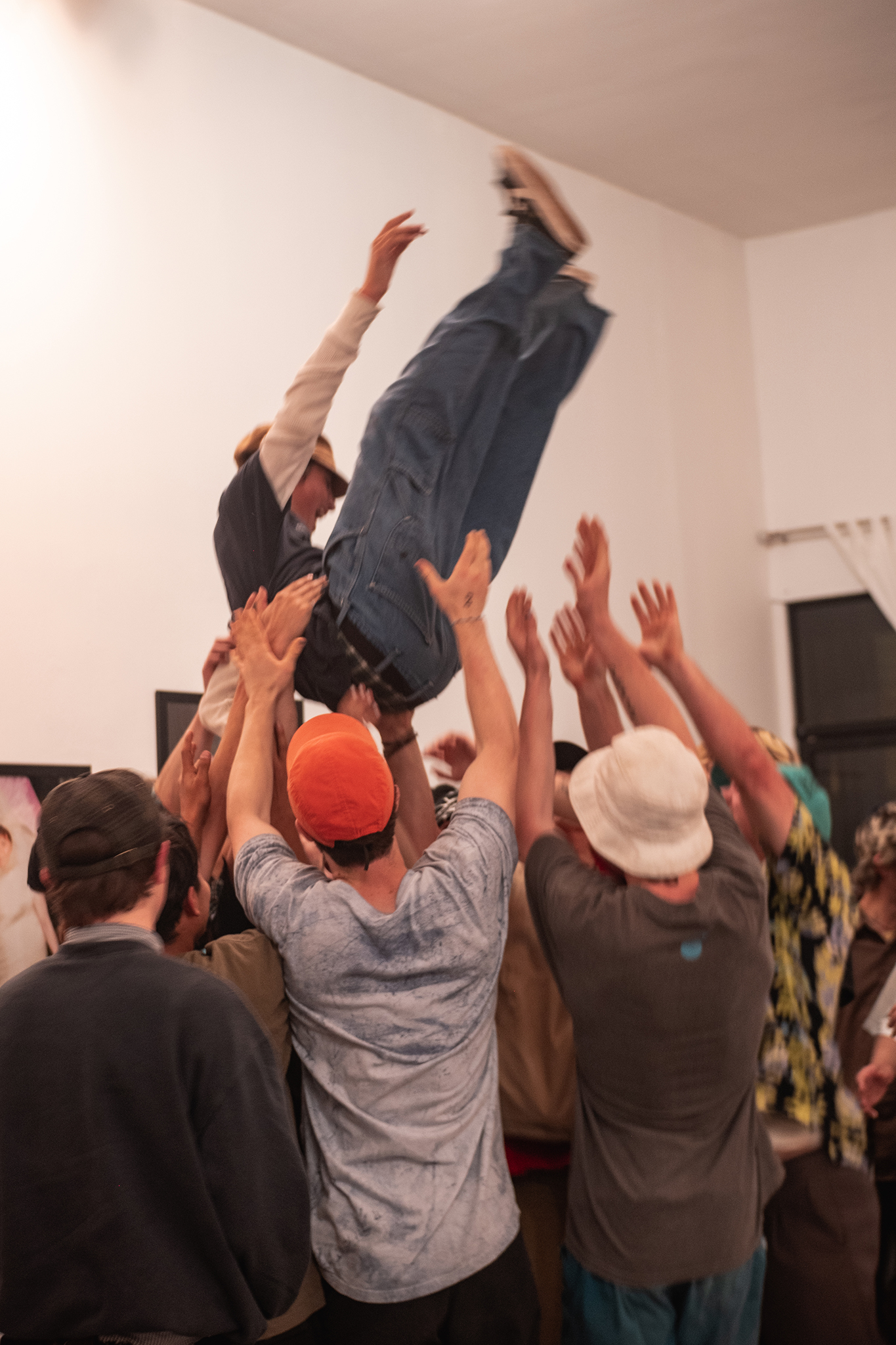 On the following day, we gathered again and had an amazing session at the LA Metropolitan Courthouse. Despite the structure towering over us on a windy day, the warm LA sun kept us comfortable as we enjoyed the open space and explored the little spots around the area. We spent the day forming lines to play with lines, and I watched Davis teleport from a juicy arm jump to the top of a distant parking garage. After a solid session, we headed to the film screening that night, where we had the chance to enjoy some parkour films.
There were several entries, including videos from Sneknek, Egg Klickstein, Connor Pennington, Ethan Rud, and Hudson Lehr —— all produced by The Commons. Snek brought the steeze and showed us what the Missoula gang was up to in the snow. A trailer for Egg's recovery piece aimed to explore how they used the recovery period to focus on mental health and its relation to their movement. Connor's piece was beautifully shot, and his ability to make incredibly difficult moves look casual had everyone saying, "What?!" Ethan and Hudson's Eurotrip film was a feel-good classic, featuring the duo finding different lines through crowds in the city, and with many cameos from people along the way, the video kept you feeling warm and fuzzy throughout. The Commons screened a short documentary that introduces the humble beginnings of the group. The documentary showcases what they have gone through together and their bright future as they work to feature movers from the community. Additionally, the latest MÜV release, Drops From The Top, was screened with great success!
On the final day, there was a palpable sense of energy and emotion as the event came to a close. Everyone was feeling the typical soreness that comes with jam-packed days of training and the usual sadness that accompanies saying goodbye to so many wonderful people. Personally, I took my time getting to the spot after getting lost on the bus, but I figured that everyone would already be training when I arrived. And, as expected, I found some people there but figured more would show up later. The UCLA campus was teeming with spots and people passing through. Despite being on the third day of nonstop jumping around, we all found new challenges after a nice warm-up and enjoyed our final day together.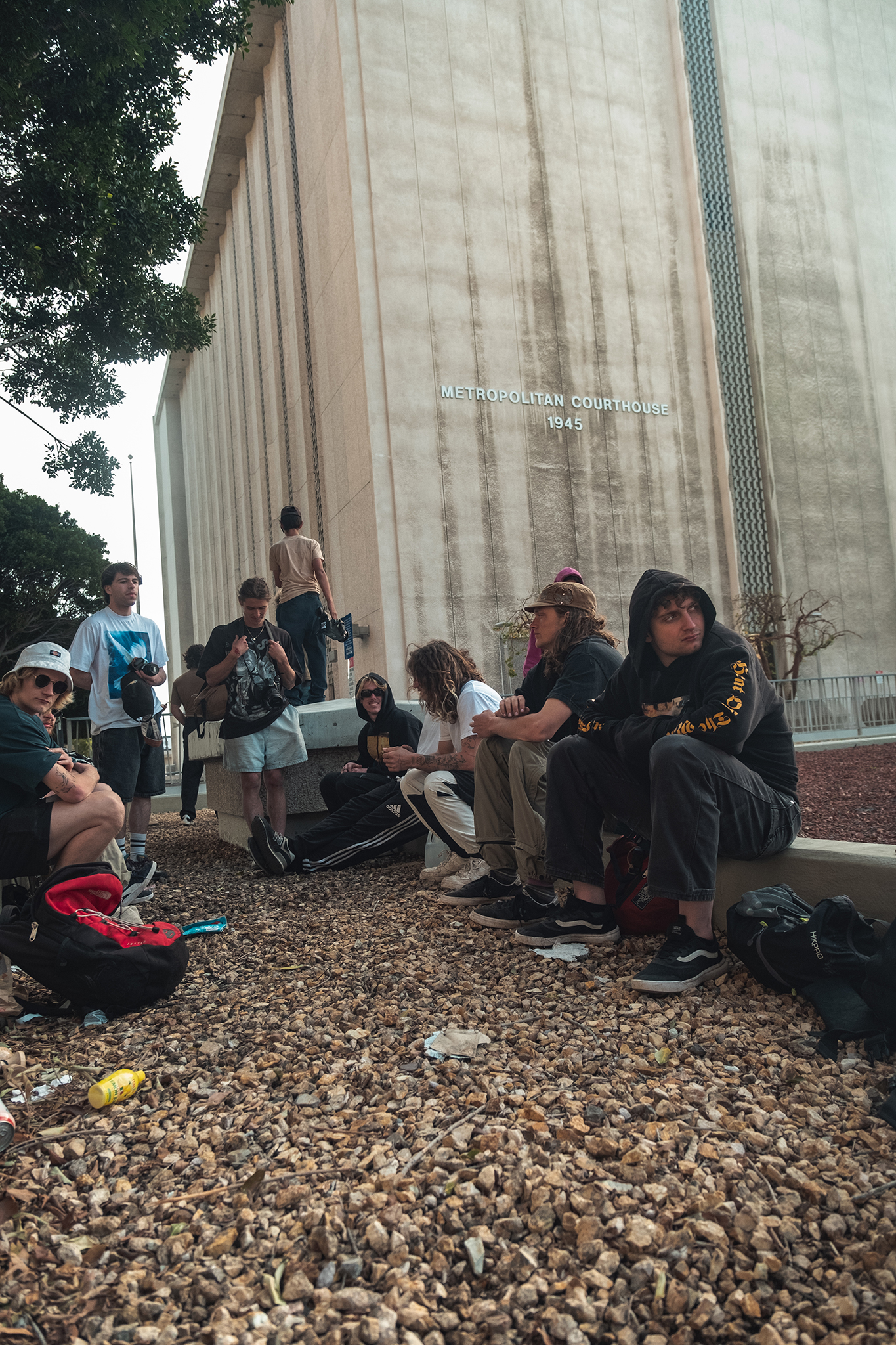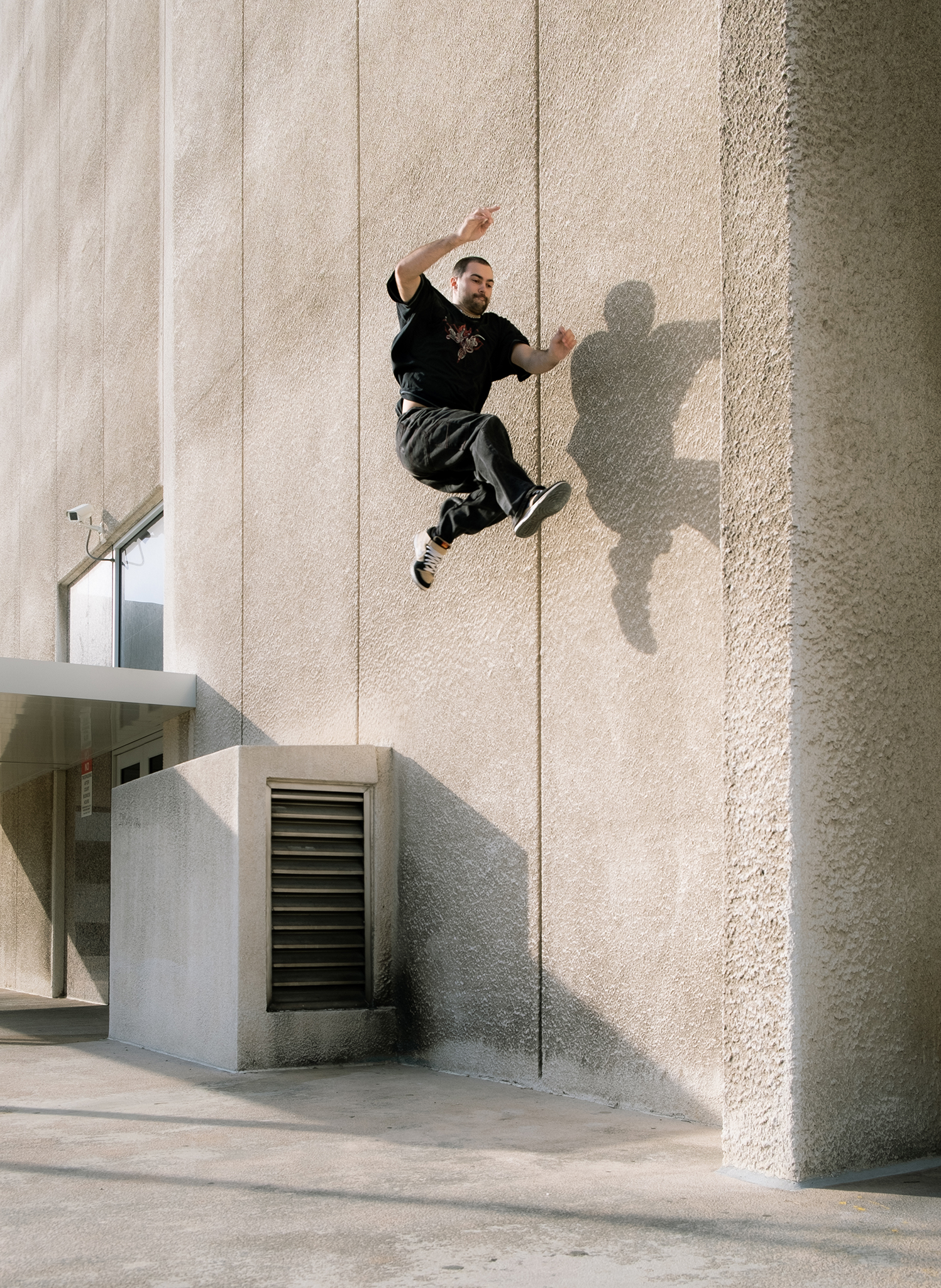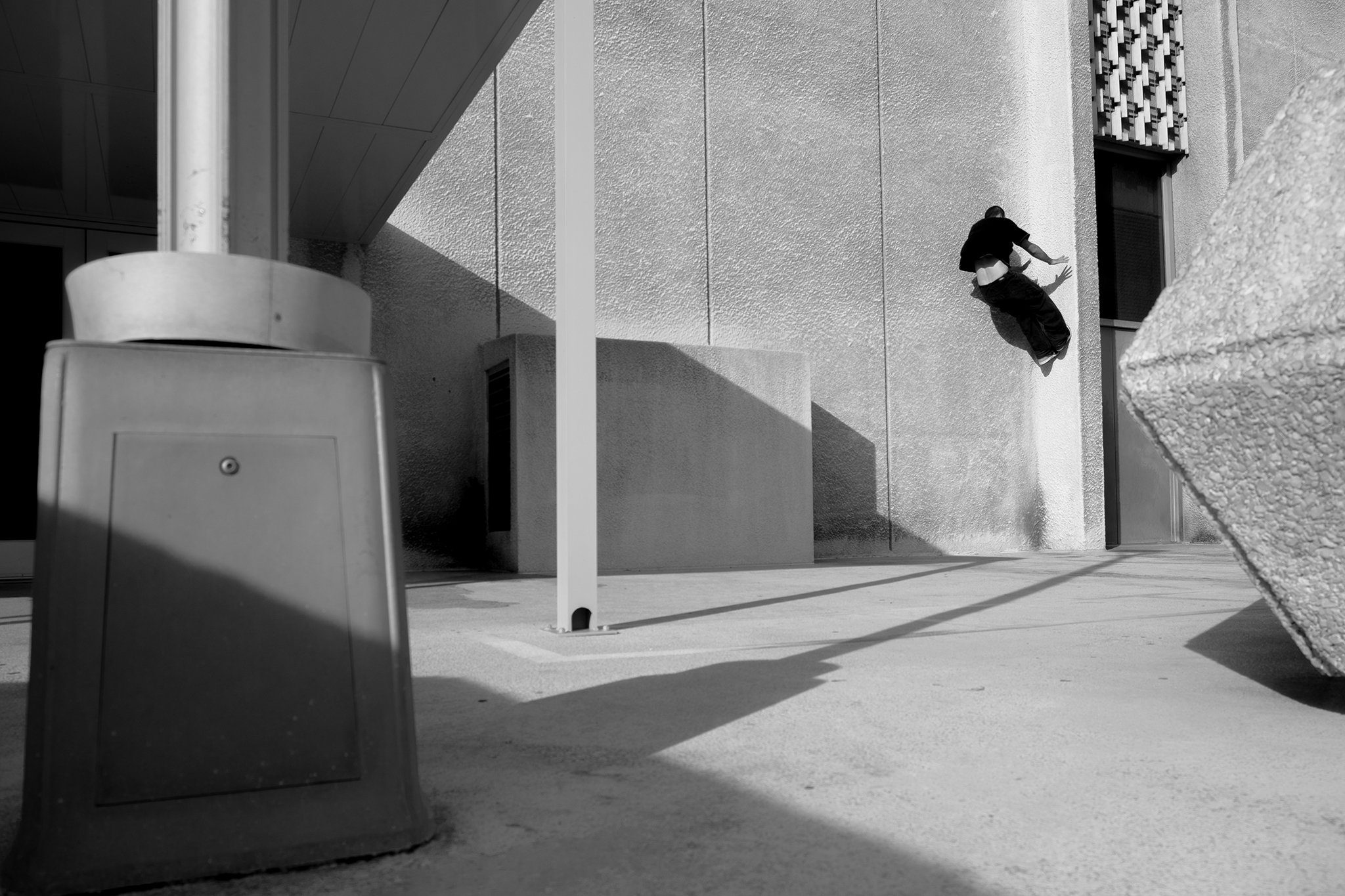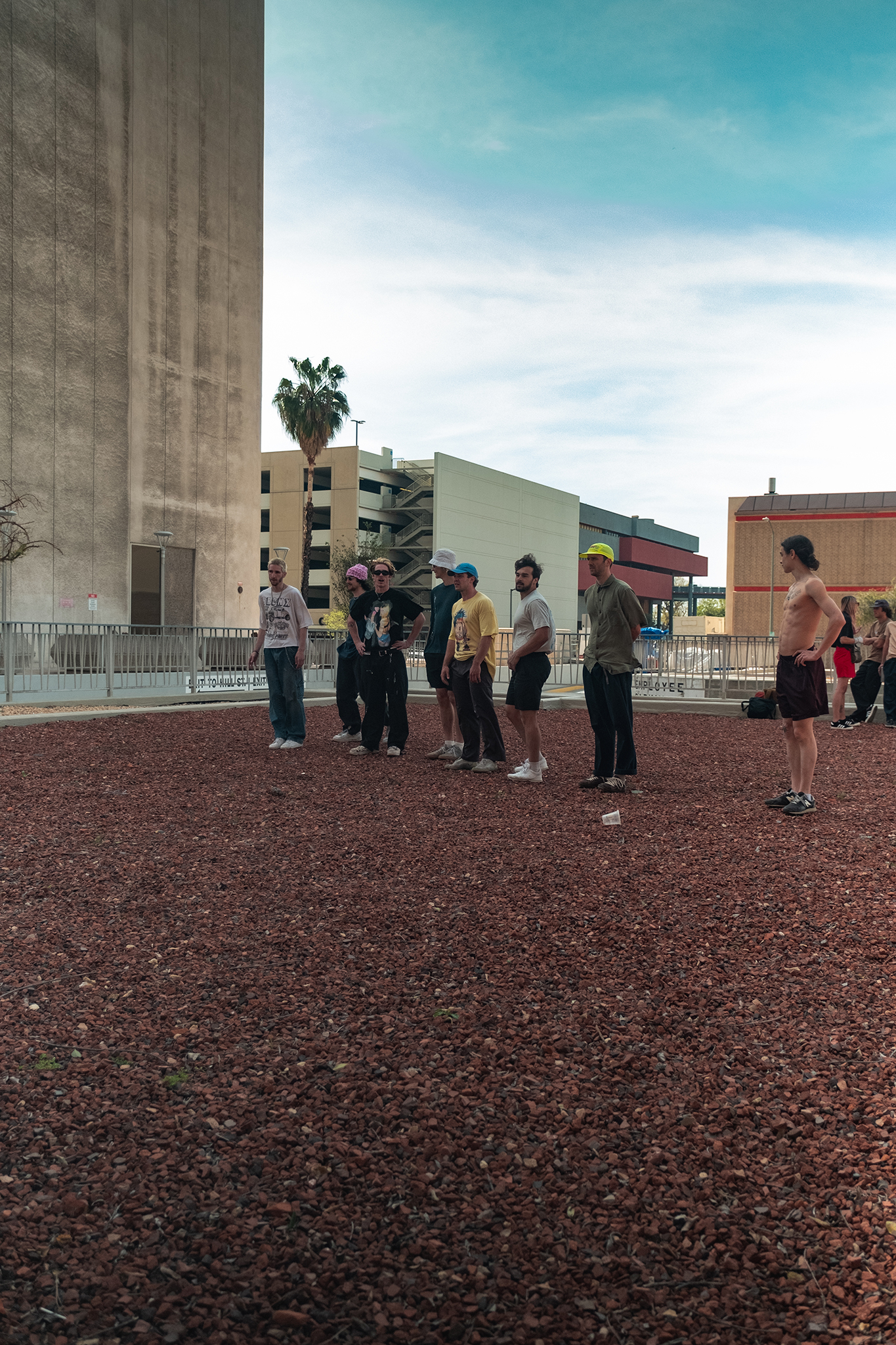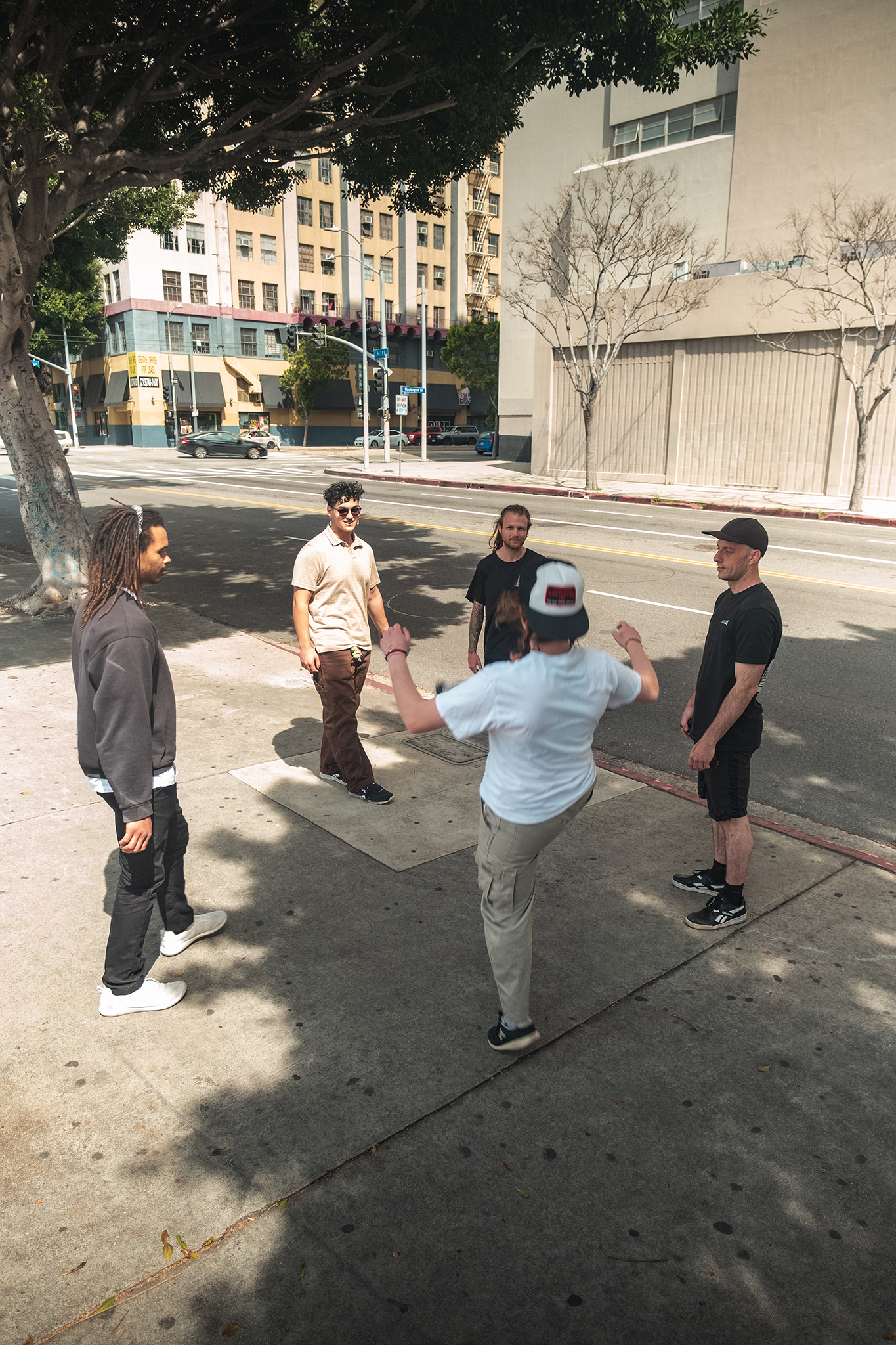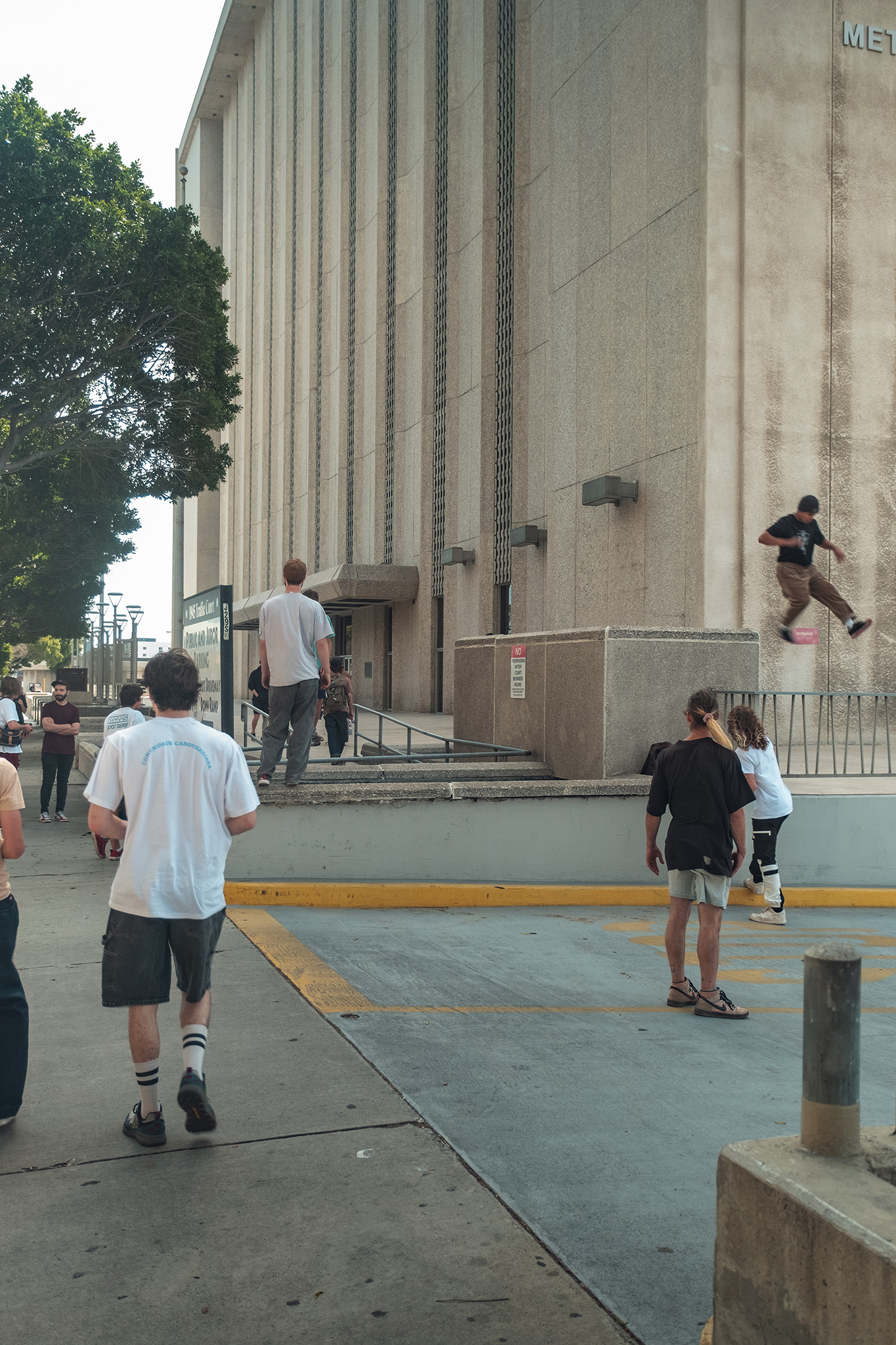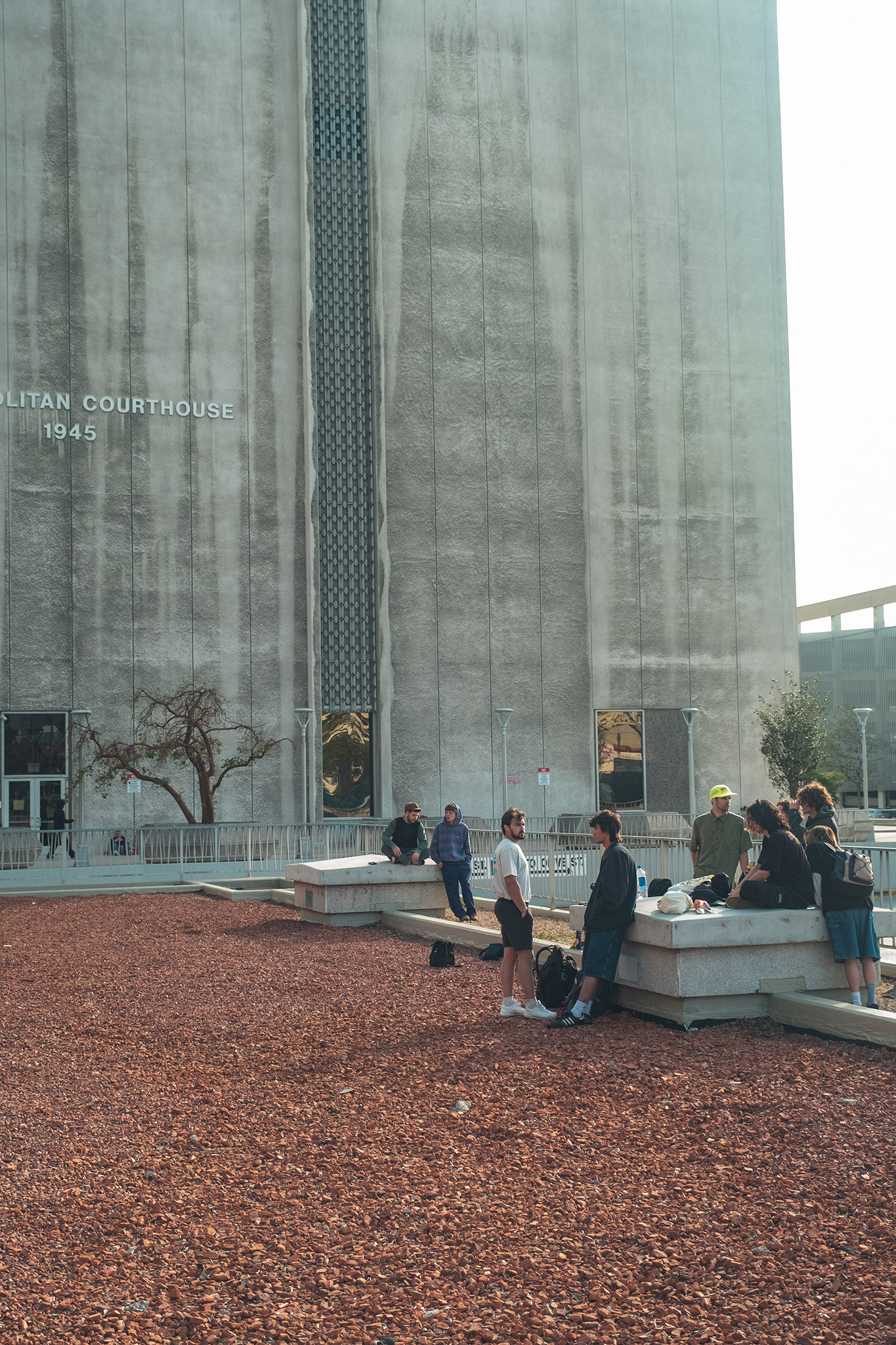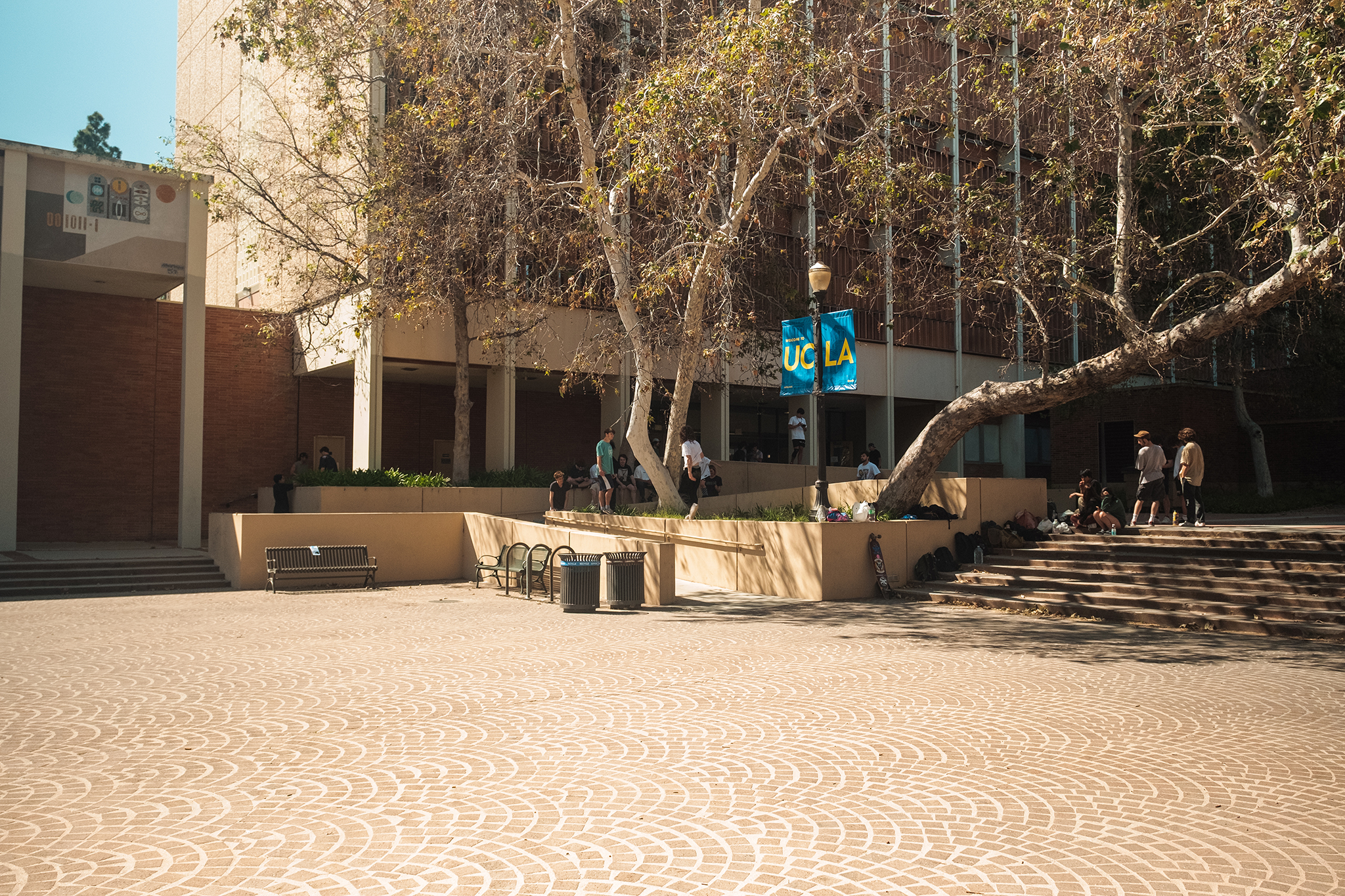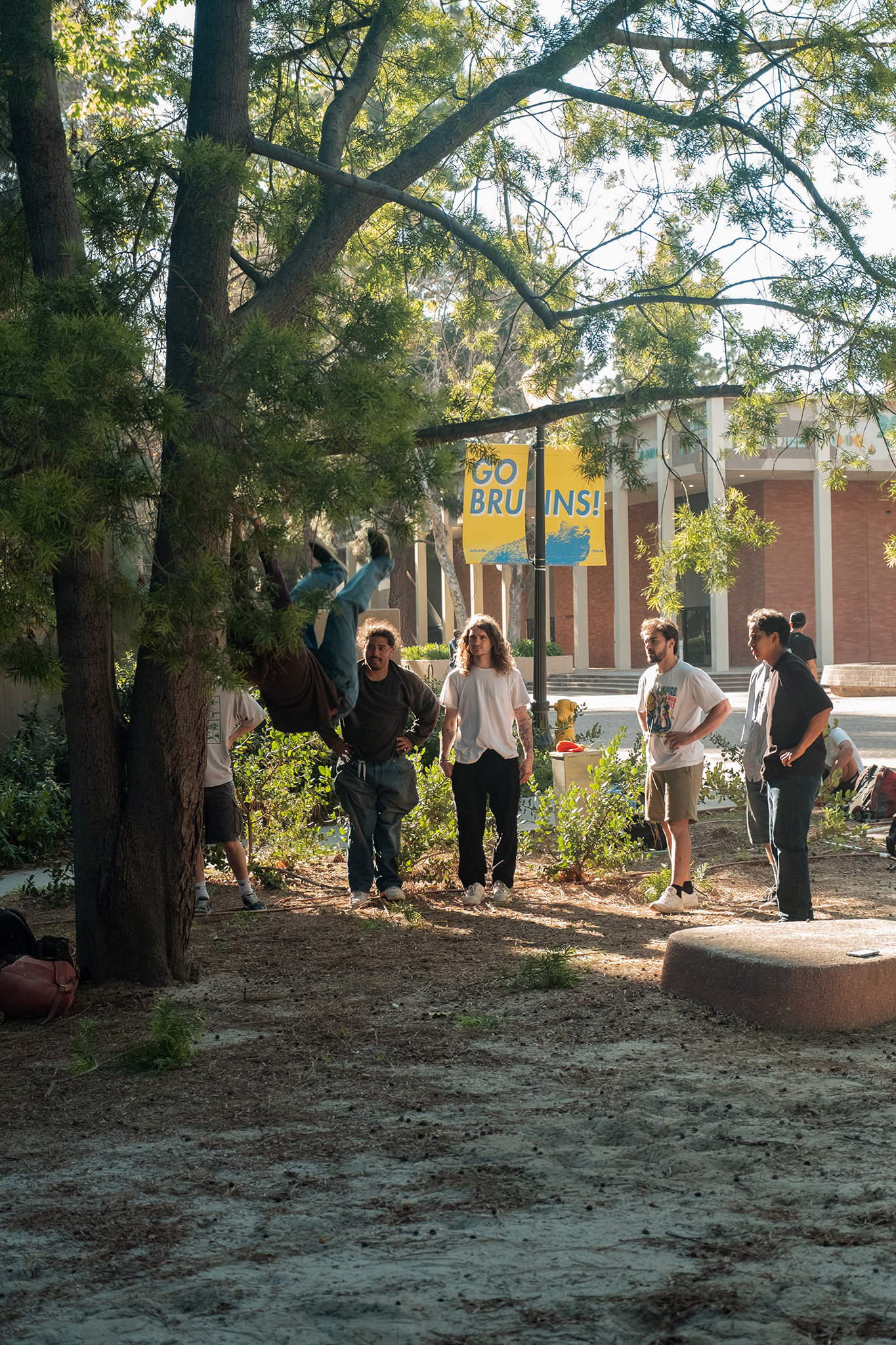 Meeting new people and seeing old friends was truly amazing. The Commons, Sneknek, The Beans, Toasty Lizards, and of course, MÜV, were the names that made the jam the special occurrence that it was. However, the purpose of the event went far beyond these names – it was the intention behind it that made it truly special: community and creation.
I believe that creating spaces to showcase the manifestations of our art outside of the movement is the direction we are headed in. For a long time, we've been trying to find ways to connect with people who don't practice parkour, or at least get them to understand it. Speaking in languages that people are familiar with, and showcasing movement in ways that they can relate to is not always the easiest thing to achieve. However, with galleries, music, and other cultural touchpoints that people are already familiar with, we are able to speak to people in ways they understand and reach people we otherwise couldn't before. I cannot wait to see what the future holds for us all and to continue experiencing and creating parkour in all its forms.