In popular film, parkour has generally been relegated to a niche roll. Because of that, among the lineup of mainstream films to feature parkour to date, In Your Dreams! stands out. It's not only the second film directed by Veteran Czech Producer Petr Oukropec, but also the first time that parkour has been depicted as a culturally significant entity within film. Rather than relying on intense action sequences, questionable story arcs, bad remakes, and worse explosions, it utilizes the subculture of parkour as the backdrop to a broader, more personal story.
The narrative of In Your Dreams! revolves around the romantic hallucinations of a teenage traceuse named Laura in Prauge, CZ. As the story progresses and Laura's confidence increases, so does her involvement in the local parkour community. Building on a common trope of parkour culture, the initial cause for Laura's greater involvement is her infatuation with Luky; a traceur and figurehead of the local community. While her infatuation with Luky steadfastly grows more complex, Laura's grasp on reality grows weaker and weaker. Utilizing little in the way of CGI and other SFX to create the many dreamlike sequences, Oukropec successfully pulls the viewer in.
In Your Dreams! blurs the lines between fantasy and reality by making good use of breathtaking locations, intimate camera work, and a generally well-written script. Conceptually, the plot of In your Dreams! is adventurous. As it progresses, the plot manifests into a spiraling, dreamlike story. In Your Dreams! successfully uses that otherworldly feel to keep you on your toes. As a parkour practitioner, the experience of inhabiting two very different worlds feels very familiar.
Along with the successful integration of parkour culture and a variety of diverse locations, Oukropec also manages to draw the viewer into a believable teen and young adult subculture that lives on the fringe of acceptable society. More importantly, Oukropec does this without relying on American teen movie tropes.
On the flip-side, the adventurous plot and intimate camera style are not without their technical flaws. Well cut action sequences performed by real parkour athletes are marred by cheesy stunts, forcibly inserted into the story to support some of the more dream-like elements of the plot. The intimate camera work is flawed as well, with several poorly executed camera moves. While the technical flaws did not totally prevent this from being one of the first movies in a while to draw me in, they did detract significantly from my ability to become fully immersed in the otherwise quite believable story.
What really sets In Your Dreams! apart is the way it integrates, and relies on, the presence of Czech parkour culture for the story. Throughout the film (which is set at actual training spots in Prague) traceurs and traceuses can be seen training in quite a natural fashion. In a way it was shocking. It's the first time that these interactions, which most of us experience on a day to day basis, have been depicted in film. One of the other things that stands out, is the casual way in which parkour is intimated into the plot by nearly every character who appears on screen. It is implicit throughout the film that everyone, however nonathletic or uninterested in the discipline as they may appear to be, is involved with, or aware of the community at some level. This successful integration by Oukropec did not come without its unique challenges. At the initial casting, it was impossible to find a female actor who could be trained to an appropriate level for the film within a short enough time period; The lead character was, in fact, a relatively unknown Czech parkour athlete who then received training as an actress.
While, like in every parkour related film so far, there are a few over-scripted chase sequences and forced dialogue, Prague's training locations and parkour community do more to set the mood than any other element of the film. They work smoothly together, contributing to a natural, positive, and supportive atmosphere. Indeed, the atmosphere of the film will feel immediately and intimately familiar to anyone who has been a teenager or been to a parkour jam. The natural and friendly challenges that take place within the film lend themselves well to the overall concept. The culture of challenge seeps into the plot in a variety of ways ranging from gradually progressing physical challenges, to a distinct affinity for rooftops and high places that is displayed by the characters themselves.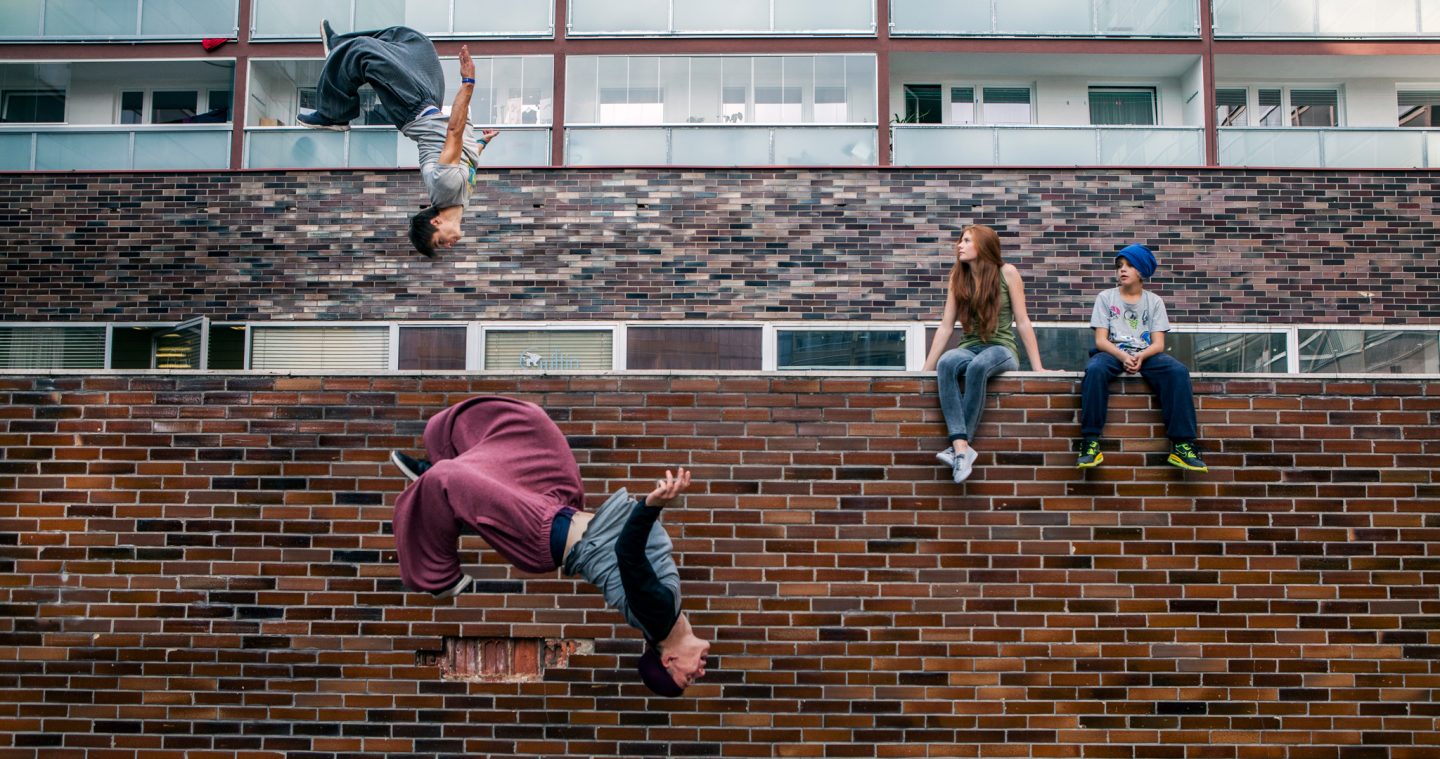 Overall this is the first culturally relevant film to originate outside the subculture of parkour. In Your Dreams! portrays the feel of our community in a positive and accurate light, and has potential to be the first major motion picture that we as a community can proudly showcase. In Your Dreams! truly connects with the human condition. Hopefully, it will be the first of many successful integrations of our culture into the global mainstream.
Photos © Negativ Film Productions
Follow Sean Endres on Instagram and his website.
Want more? Subscribe to help us create more stories like this one and to make sure that we're able to continue creating the content you love.