Back in 2010, I competed in the first major APEX competition as an invited guest. At that point in time, I wasn't very supportive of the event because I had been an anti-competition advocate since parkour's infancy. From the depths of parkour.net and Urban Freeflow forums to the ears of my peers at local events, I was constantly battling through the competitive darkness to bring the soul mending, community strengthening, and self-empowering benefits that grew from the practice of "pure" parkour. During that event, I did just that.
I remember a friend telling me before my run that if I gave it my all, I would probably win. "I'm not here to win, simply to have fun," I said. He was insistent on me trying to do my best physically and was annoyed by the fact that I didn't care about winning. I had nothing to prove to anyone except myself but I knew that even if I lost the competition, I intended on leaving victorious. And I did just that: I decided to throw the competition during my first run. Although I knew I was capable of clearing the course in the 19 seconds or so record, I spent almost 2 minutes prancing, dancing and flipping around the course with a smile on my face. The crowd roared.
First one was in 2010. It was known as the APEX Invitational until this year. This year was by far the biggest and best one. We've had international athletes before but not as many as this year. Previous years were invites and qualifiers. This was the first year in which everything was equal for men and women. Our main goal is to do our part in building the infrastructure and opportunities for more athletes to pursue parkour as a viable career.

Ryan Ford
Since then, my views on competition within parkour have changed. I travel down a path I once fought so hard against; now able to see the benefits that competition under the right circumstances provides. Of course, it has its drawbacks but no tool is perfect. A hammer may work best for adding nails, but if you miss, your finger may end up taking a hit. Just because the risk exists doesn't mean the tool is bad, only that you must use it with care. That's exactly what happened with the evolution of the APEX International competition.
Upon walking into the event, I felt right at home and was greeted by a horde of familiar faces. The gym, although chaotic, was filled with usual love, camaraderie, and companionship found within the majority of the parkour community. If you rewind to my anti-competition days: overly competitive nature and poor sportsmanship inside a community-oriented interpersonal discipline were my biggest fears. I never wanted to lose the connection that the majority held. This was my first time back at a major competitive parkour event and it was a relief to see the companionship between competitors first hand. There was very little ego, no reason to do better than others and no bad blood between competitors, only cheers, and hugs.
The competition itself was intense yet safe which cleared another one of my anti-competitive fears. I was sure people would push things too far for the gold and what I saw here was that people were operating well within reason and within their own capabilities. Nobody was on the course trying to push beyond what they knew they were capable of doing simply to take the lead.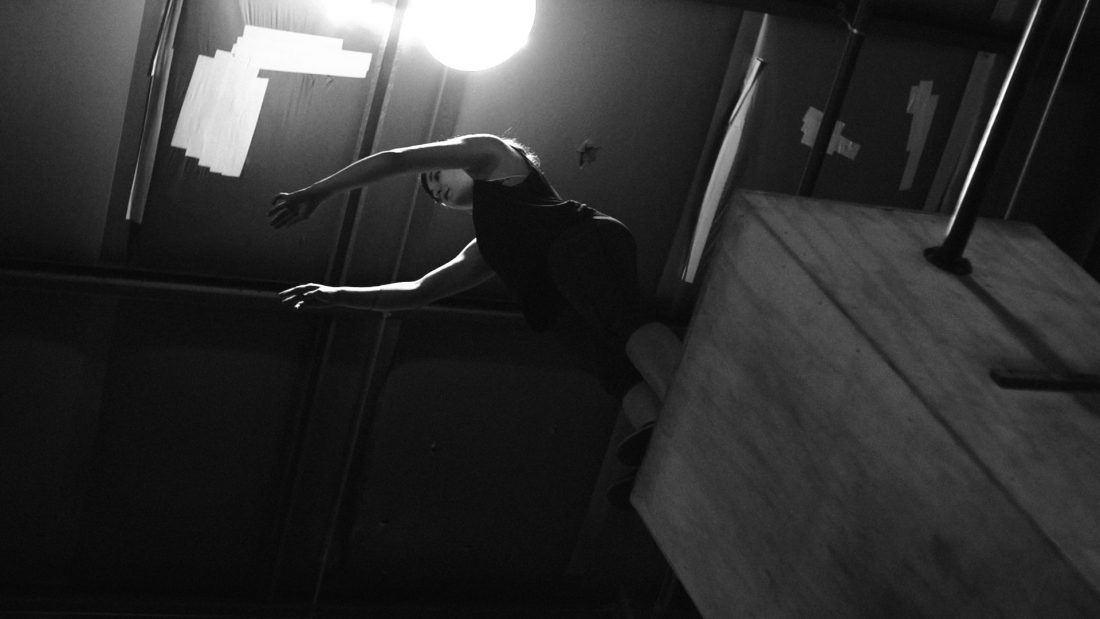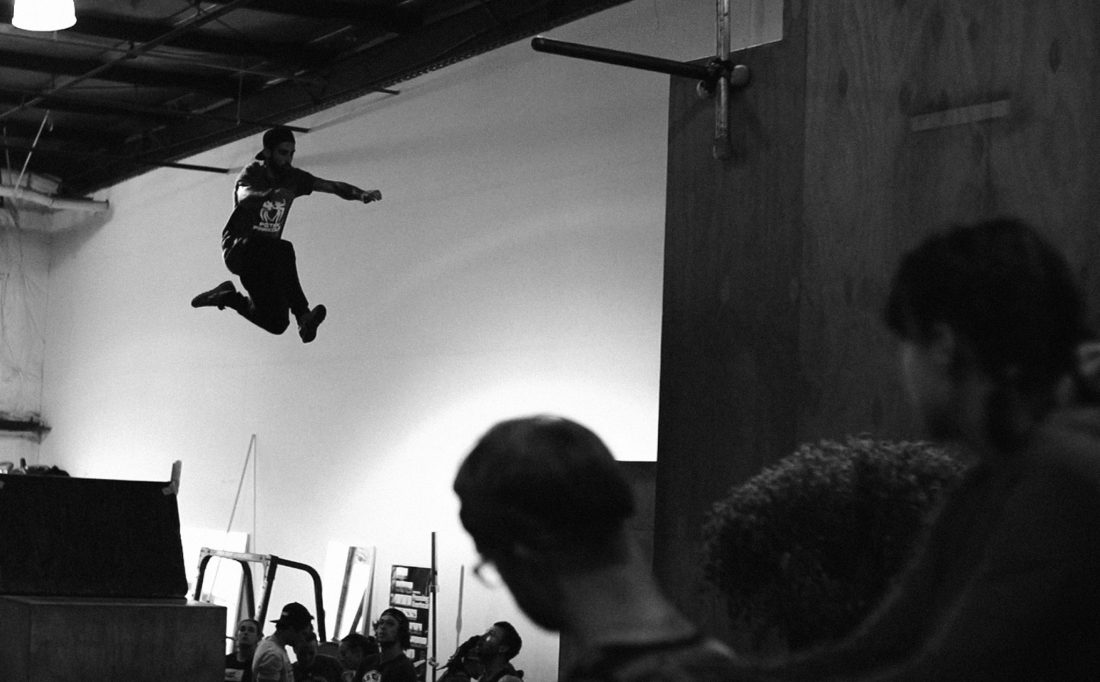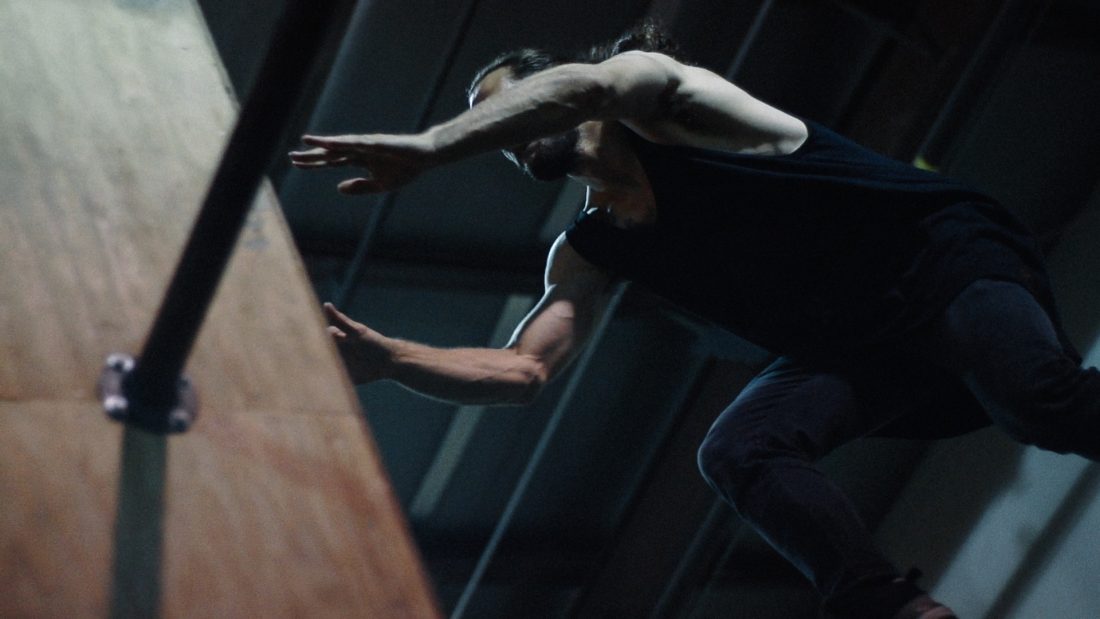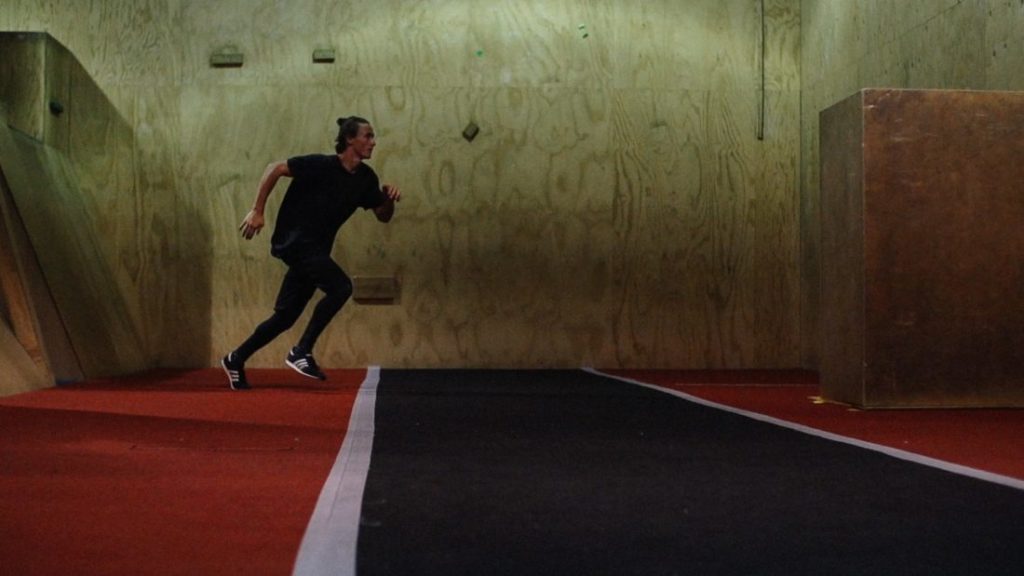 I was fortunate enough to catch up with my good friend Joey Adrian during the event, but unfortunately, he ran into an issue that hindered his performance. One of his ribs ended up coming out of its place and kept him from doing his absolute best. He knew that winning an event was not worth his well-being.
If I rest and end up feeling better, I'll still compete but won't risk it. I'll only do what I know my body is capable of handling.

Joey Adrian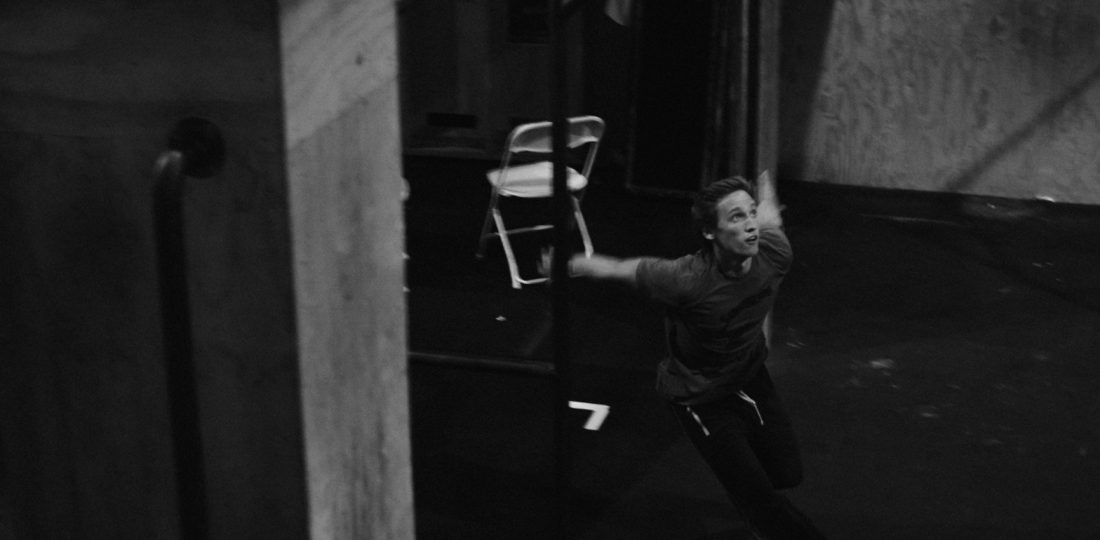 A couple things that separate it from any other big comp is the format for the Skills Challenge and the Style Battle. I think our style battle format is the most spectator friendly and exciting style format to watch. I think our Skills Challenge format encourages more participation than any other and it is a lot easier for spectators to make sense of since it is entirely objectively judged, no subjectivity.

Ryan Ford
As much as I've always enjoyed style competitions, and judging them, there is no standard for judging and no true basis on which to judge without defining categories to be judged and creating a more accurately measurable, and less subjective system for a format that is subjective. The current style competition format could use some major changes that eliminate some of its subjectivity. I believe a shared foundation between competitions and a strict system, similar to that of competitive gymnastics, could potentially be a solution. However, I feel that APEX did a relatively solid job at the strictness of criteria was fairly unbiased. With the exception of one match: Jared Nahulu VS Dimitris Kyrsanidis.
This was an interesting match since they had a relatively seasoned and competent performer up against a young, mostly unheard of (outside of Colorado) local. From the myths as well as a follow on Instagram, I knew he was a beast, but wasn't sure he stood a chance against a seasoned competitor like DK. I was wrong: Jared's run was top-notch. His flow, power, control, and technique (for the most part) surpassed DK, who I felt had given a relatively underwhelming performance. Not to mention Jared's legendary lache to inward wall front being hands down one of the dopest things I saw all night. Dante Grazioli, the first judge, seemed to agree with the crowd in thinking that Jared was taking the win. However, the battle ended in a tie and the tie-breaker ended up being best wall trick; a place where DK clearly excels. The fair deal would have simply been another round, allowing both athletes to play to their strong suits. I'm sorry to say it but Jared was robbed. The issue here stemmed from judge placement. One of the judges missed Jared's legendary moment due to visibility and gave it up to DK.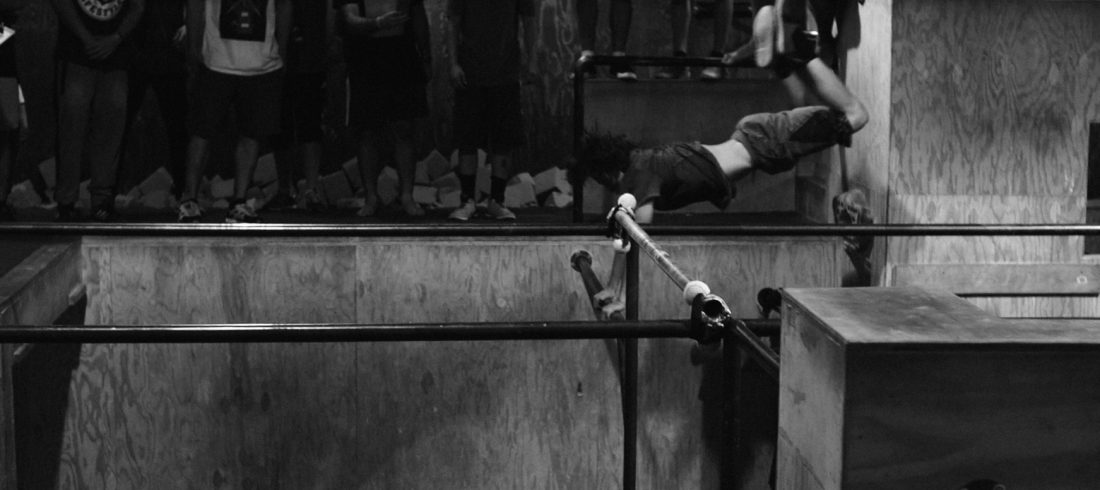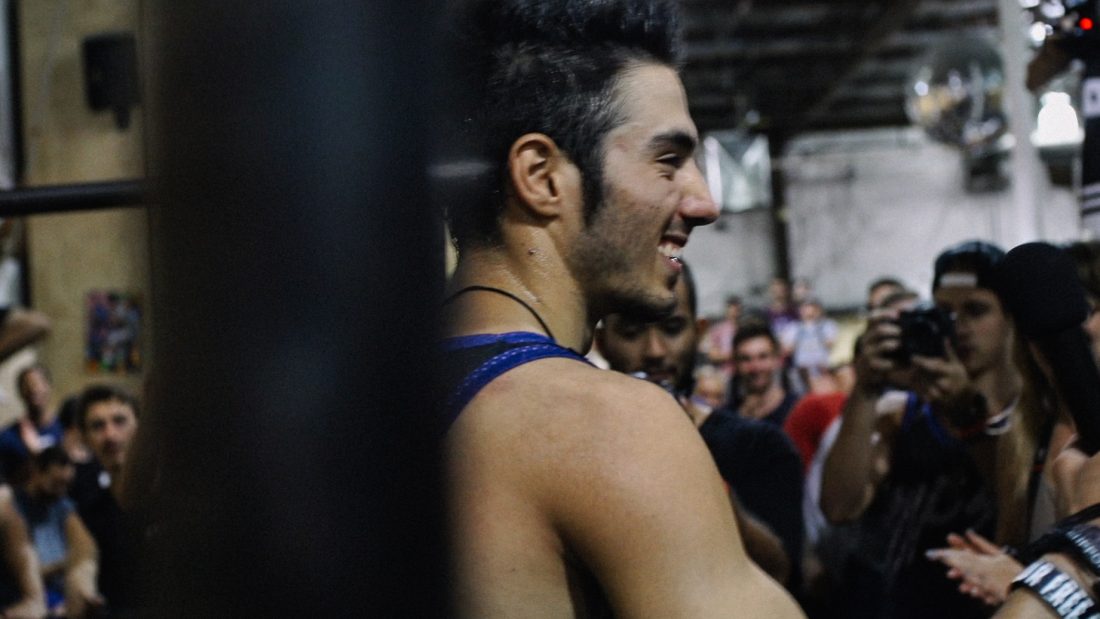 The style competition was otherwise intense and ended with the sleeping beast, Nathan Weston, taking first in the men's division and blowing the crowd away with his unreal acrobatic precision and diverse skill set. In runs where people saved the best for last, Nathan was able to jam-pack all of his runs full of well-executed, high-level movements. As did Sydney Olsen, the competitive newcomer from Tempest, who took the lead over her teammate, Luci Romberg.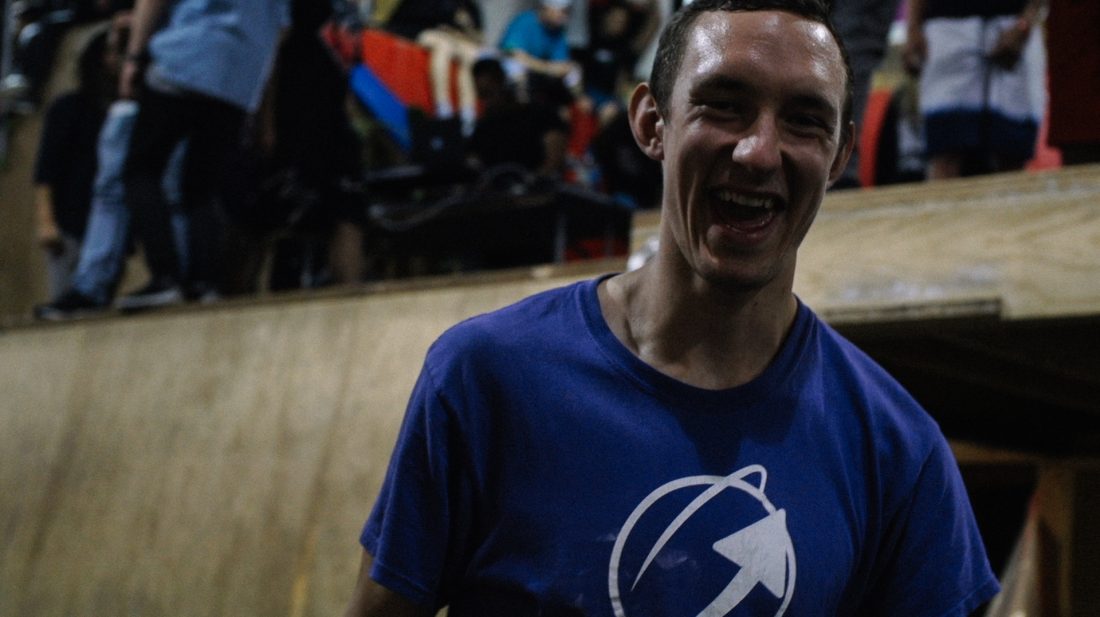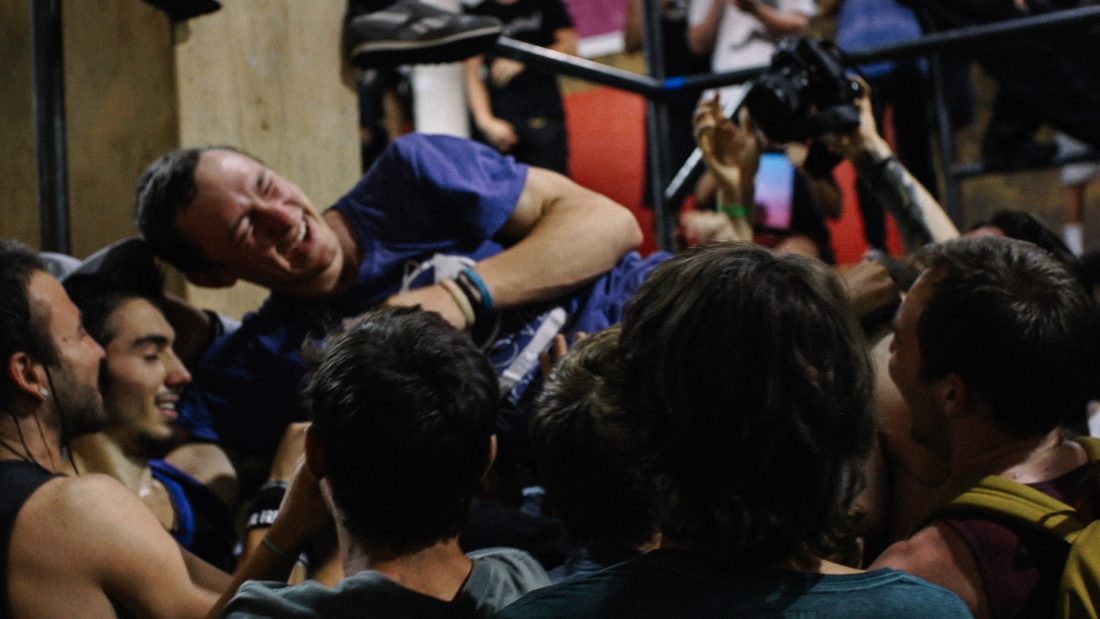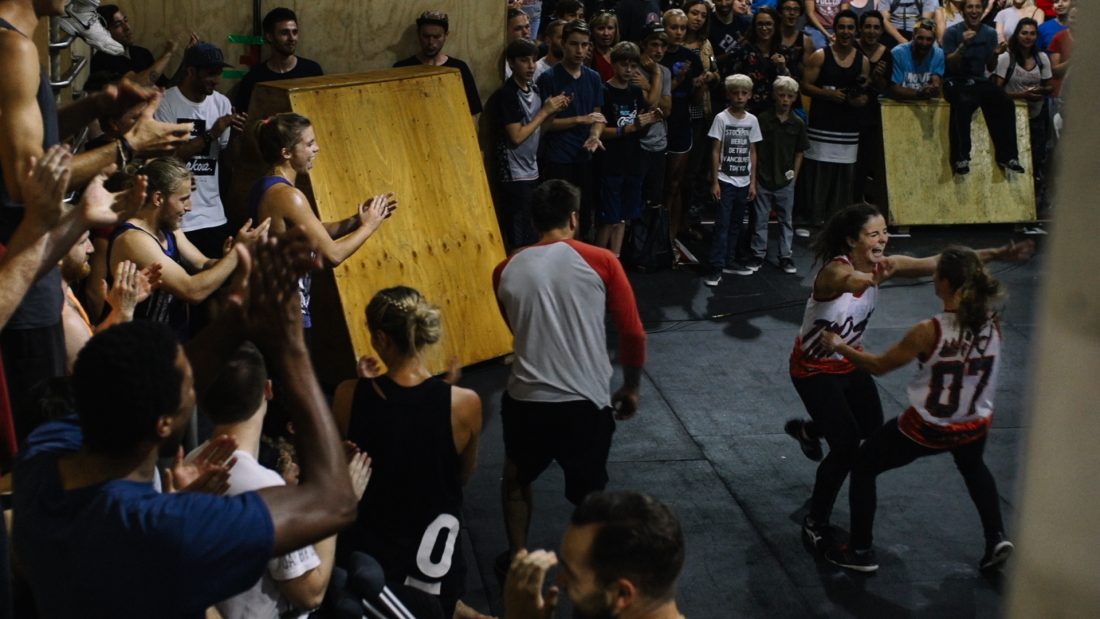 I have always had my sights set on a challenge-based format as overcoming challenges is the soul of our discipline and APEX delivered. One of the things that make the challenge format appealing, and especially so in the format APEX delivered, was it seemed like a solid group training. Advice was shared, support was given, and competitors were able to tackle the challenges as they saw fit.
This is how we train. It's what we do.

Joel Eggimann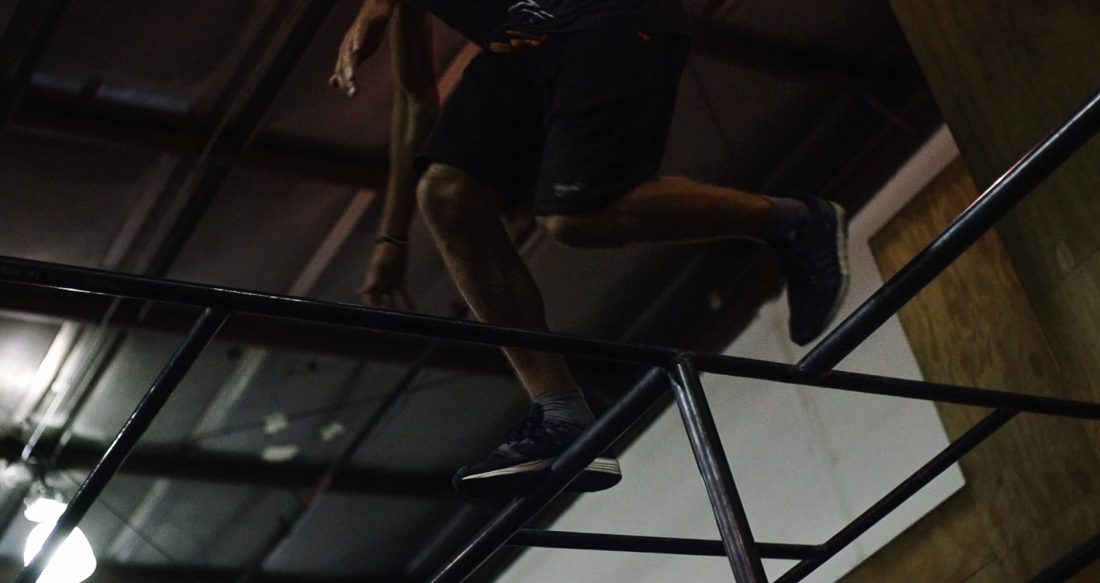 And finally, you have Time Trials, the pinnacle of APEX's developing competitive format. These guys have been hard at work developing their speed platform for years, and while every event has their flaws, this one certainly stands out from the crowd. The courses were some of the most intricately designed and challenging I have seen in any major speed competition to date. They were also designed to accommodate various levels of movement but also test the participant's abilities against a wide spectrum of movement concepts and techniques. From moving through tight and narrow spaces to jumping distances at height; no method of moving was left out of the equation. The most impressive aspect was the amount of technical ability needed on the course.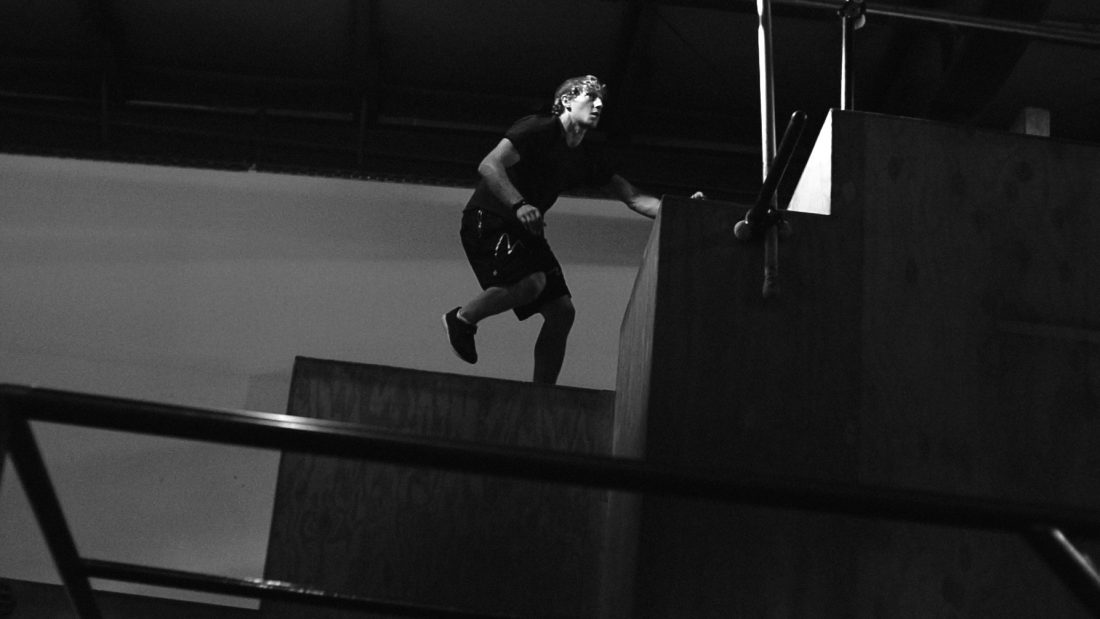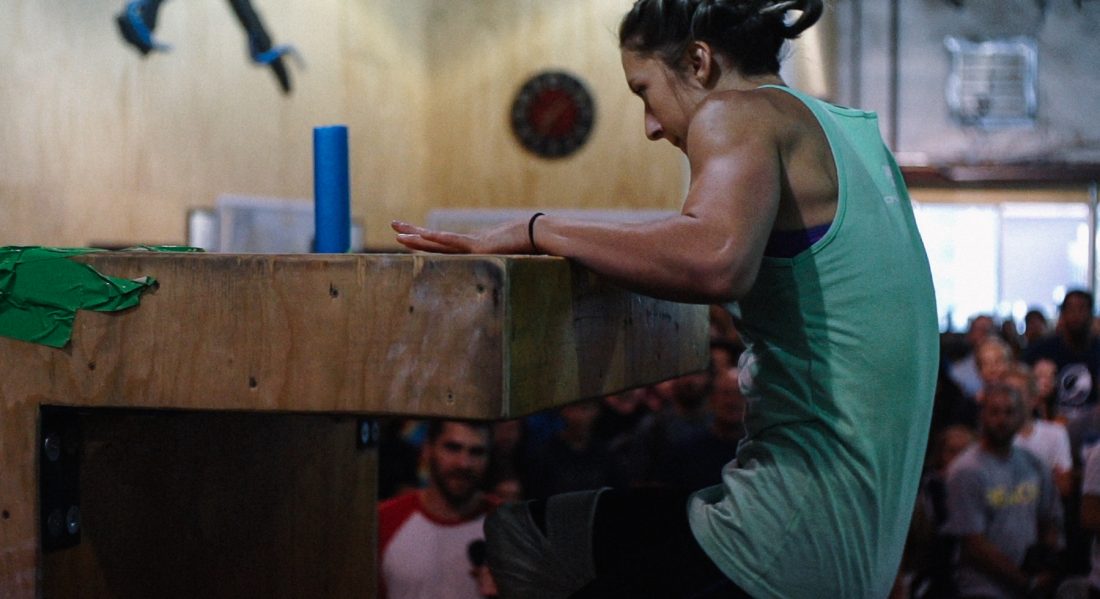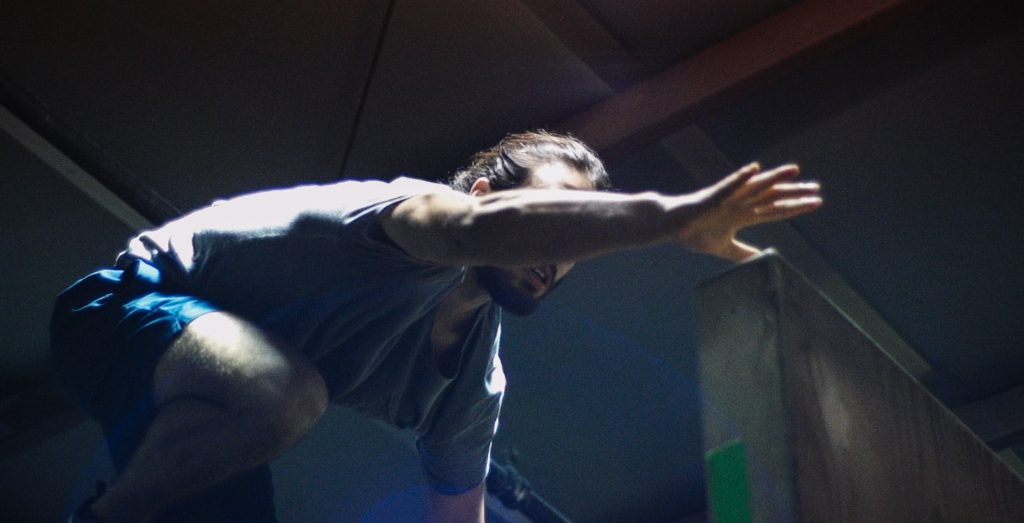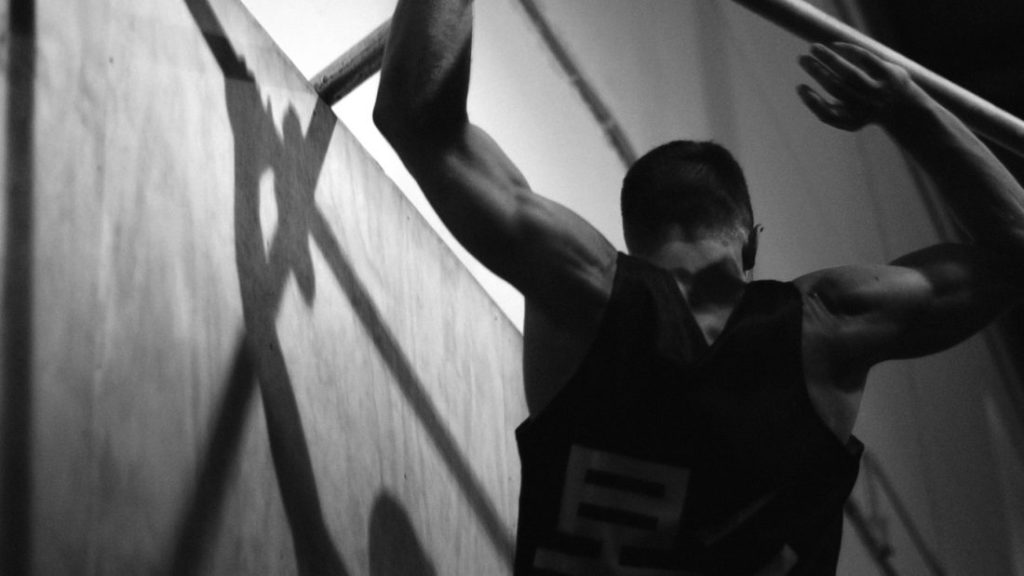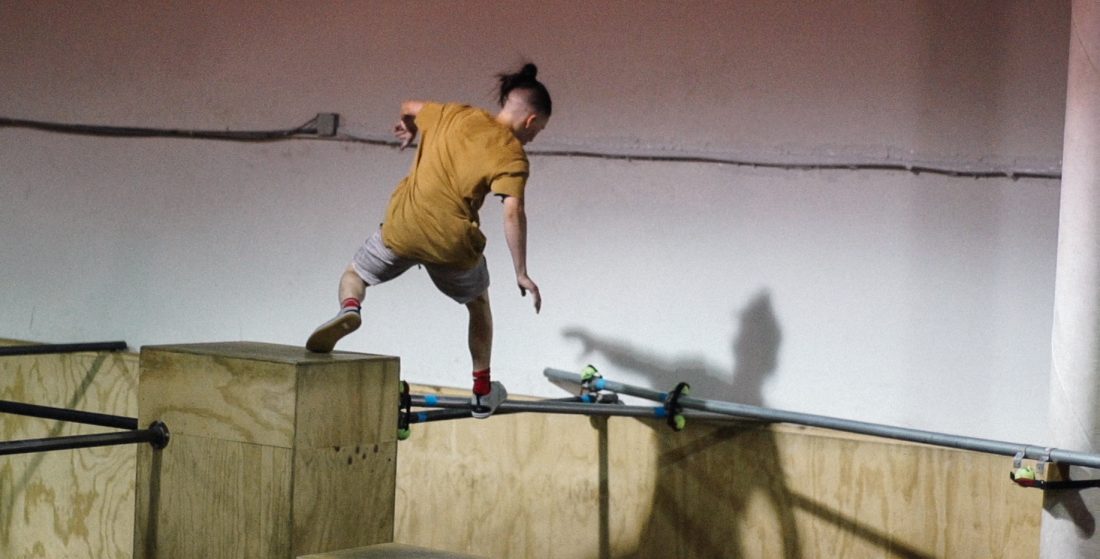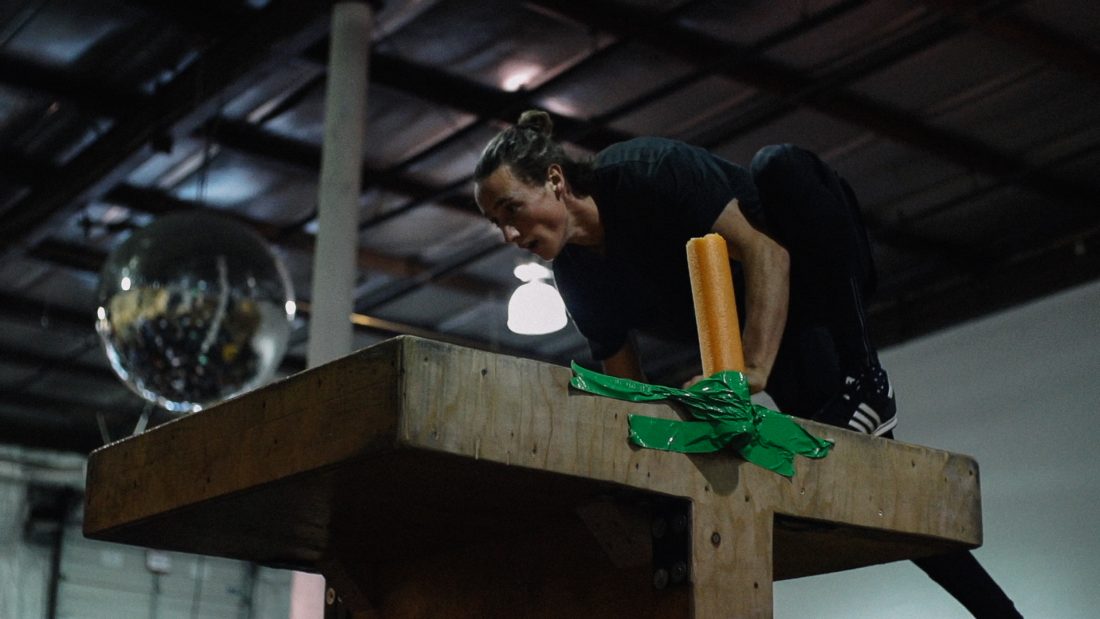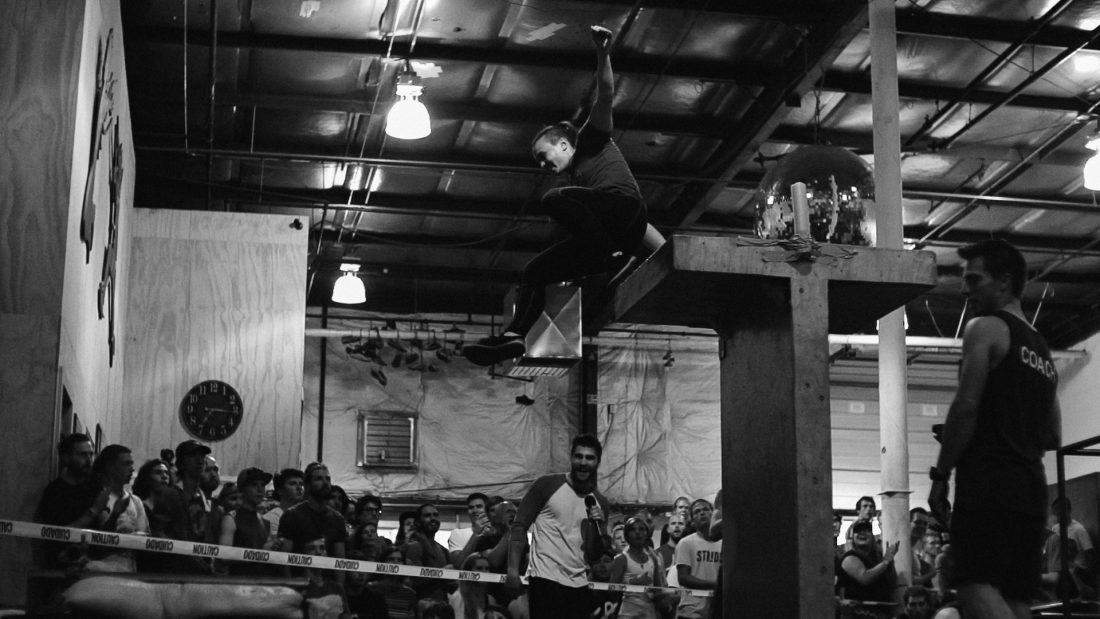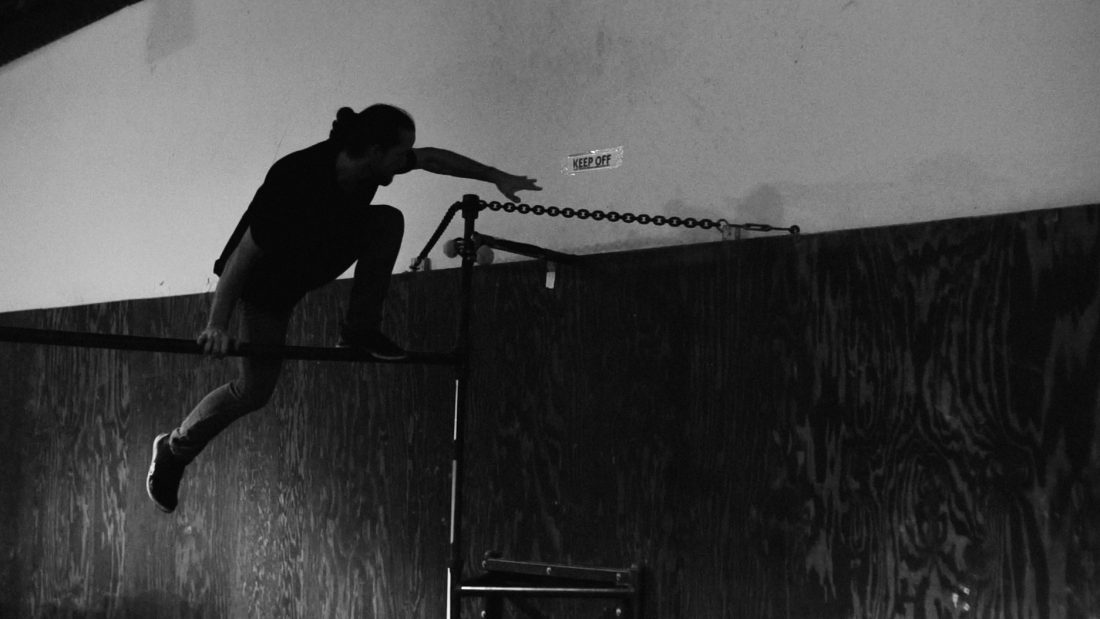 The ones (Time Trials) I've done before are really powered based and not very technical. This is the complete opposite. Obviously, power comes into play but the technique on all of it, yeah you have to remember so much stuff, it's pretty intense.

Kie Willis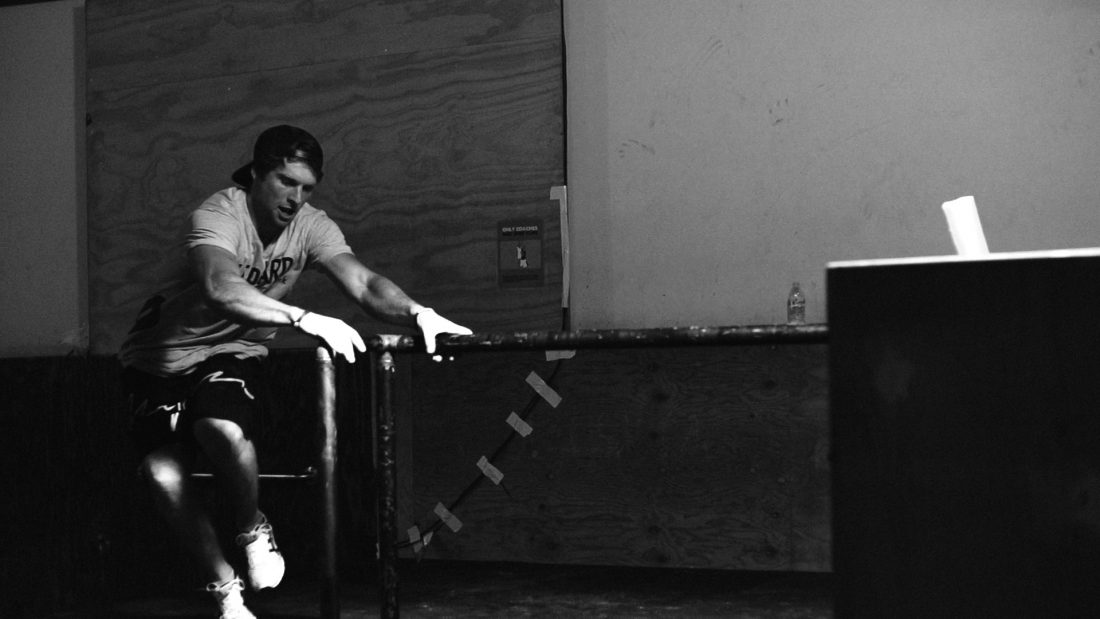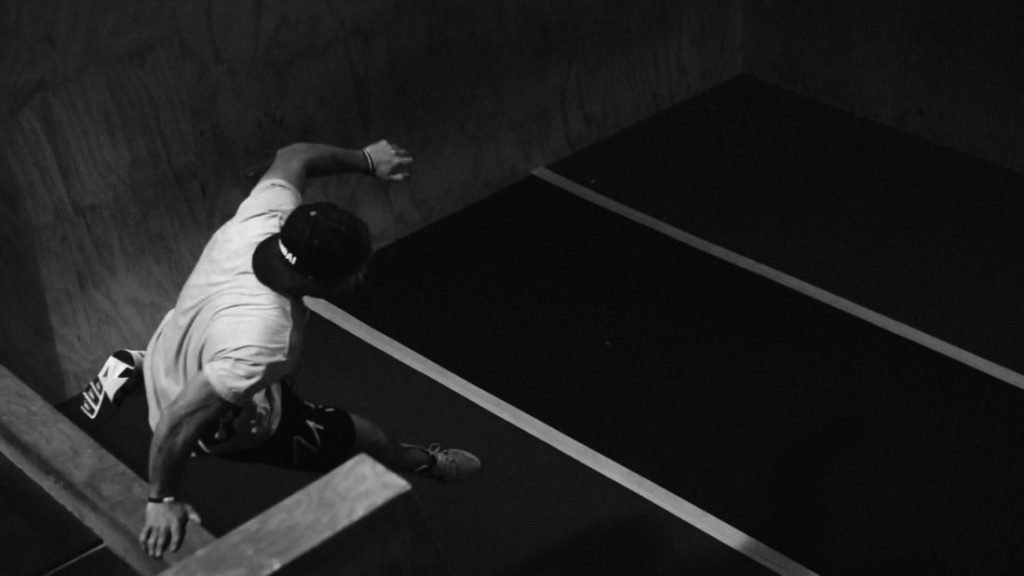 My initial thought was that Dylan Baker would steal the show, and what a show he stole. Not only did Dylan stride across the top bars and sprint his way into first, but did for all three courses. And it wasn't simply chance that he was victorious against these monstrous courses. There were some phenomenal athletes putting their skills to the test, but Dylan's mindset seemed to separate him from the crowd. He was calm, composed, and sure of his abilities without being cocky. He visualized his winnings, and the path he would take to get there. Even in the face of error, he was able to stay on that path and continue fulfilling his vision.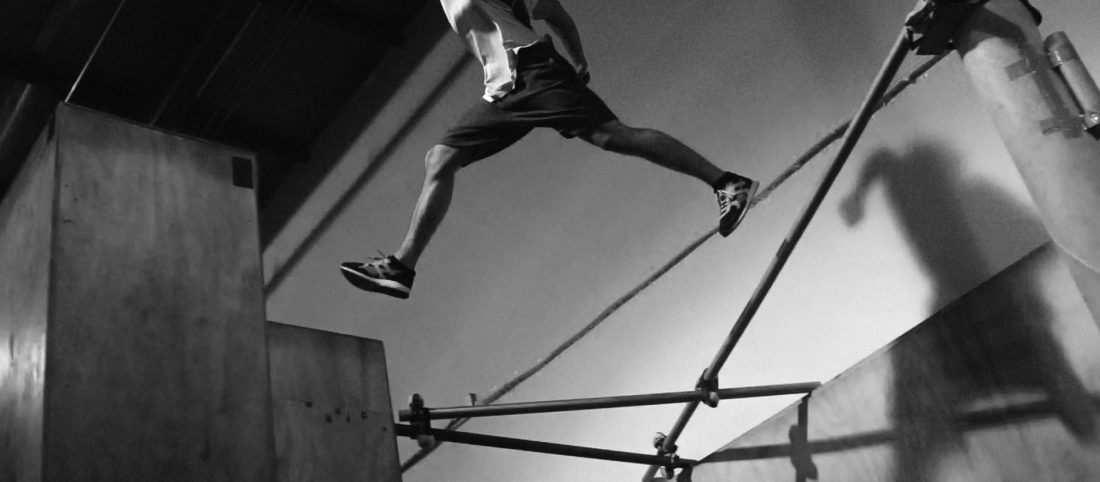 In the age-old debate of the United States versus Canada; they both took home the gold with Dylan Baker and Alyssa Serpa sprinting their way into first. However, in this case, Canada is clearly the victor.
Out of the six competitors who podiumed, four were Canadian and all of them lift heavy. This should tell everybody one thing: Move to Canada and quit being weak.
We're trying to invest in grassroots competitions that are designed and run by passionate parkour practitioners, not CEOs of major corporations trying to make a buck off of advertising with parkour. We know what practitioners like to do, we know what highlights the best parts of our discipline, and what formats are really fun for everyone, including spectators. So we're trying to take what resources we have to give that experience to everyone involved.

Amos Rendao

We live in a day and age where inequality runs rampant and we are athletes in a discipline that is male-dominated. In spite of this, APEX made certain that humans, regardless of gender, were given the same opportunities, expectations, and benefits. Everyone walked away from the event holding the same prize money in hand, and while I have heard various female and male practitioners arguing various points on the best form of equality with competition, it's good to see APEX make a conscious effort. What I hope is that these cries for equality don't fall on deaf ears and the APEX International marks a point for us to continue making strides in our own community's equality, as well as that of the world around us.

This was the first year in which everything was equal for men and women. Our main goal is to do our part in building the infrastructure and opportunities for more athletes to pursue parkour as a viable career.

Ryan Ford
While no event is perfect, and APEX definitely had its fair share quirks, I am thoroughly excited to see all the progress that will be made to the event's formatting and organization. Maybe I'll be entirely injury-free and you'll see me compete in the event next year and actually try.
Photos © Andrew Obenreder, Noah Mittman,
Follow Andrew Obenreder on Instagram and Twitter.
Want more? Subscribe to help us create more stories like this one and to make sure that we're able to continue creating the content you love.