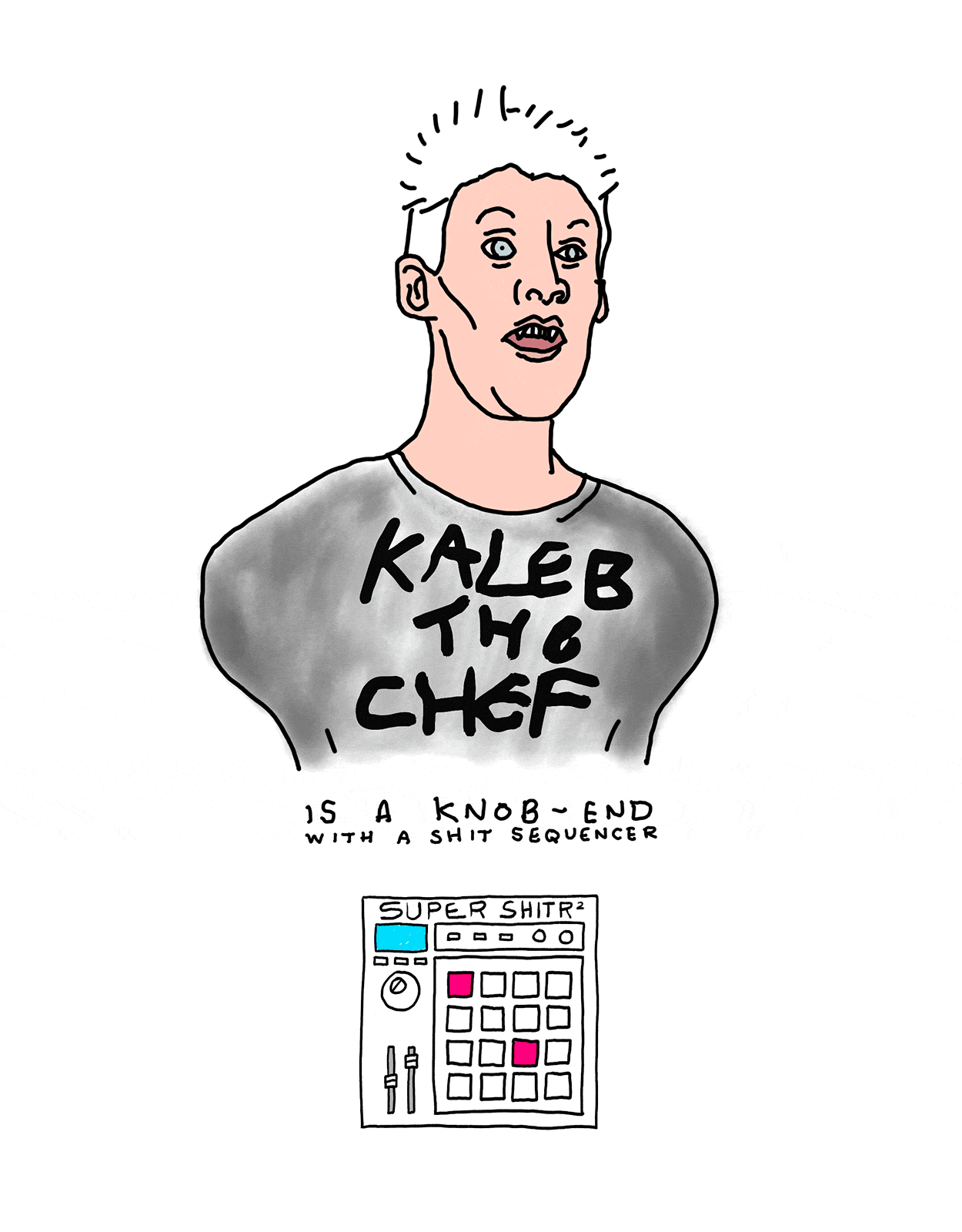 We know you know Callum Powell, or at least a little from his work with Storror, but have you met his musical mastermind twin KalebTheChef?
This may be true but this knob-end with a shit sequencer has DJ Premier and J-Dilla for spirit animals. His tunes are smooth, soulful, beautifully layered, sport strong percussive loops and use an array of fantastic samples that are masterfully chopped with precision like his precisions.
"DJ Premier and J Dilla are pretty apparent influences," Callum says, "I'm really inspired by anything like the old school, the 90s, golden age sort of stuff." He's into the beats from old Mobb Deep, Mosdef, Jehst, Nas, Wu-Tang, MF DOOM and newer producers like Apollo Brown, Onra, and Jaisu.
"Anything that encompasses that raw, gritty style that most beats from that Era had," he added.

And you could certainly feel that golden-era love in his first EP release In the Kitchen. The majority of the album swings between a chilled out vibe, with some jazz and soul influence, to some gritty, heavy hitters, filled with bleeps, boops, and bangs.
"When I had enough tracks I liked enough to put together, I made that little EP (In the Kitchen) that I attempted to sell on Bandcamp, as there seemed to be a bunch of people wanting them. The download limit Soundcloud had at the time was reached pretty fast whenever I'd upload something new. Not sure whether it was because it was actually good or Parkour 'fame' and association with that played a bigger role in people liking it."
It's been five years since any new KalebTheChef releases, the latest being Gandalf and Ying Yang, which undoubtedly, are two of my favorites. They fit incredibly well for back to back releases as there is cohesiveness between the sounds yet they are vastly different pieces. Gandalf has this mildly ethereal; almost Bonobo inspired feeling to it that reminds me of those youthful days, where even through the bullshit, training was always that thing. While still on those chill vibes, Ying Yang paints a clear contrast between calamity and tranquility and provides a distorted sense of timelessness. In short, both are dope tracks for chill morning training.
So what's next for KalebTheChef? Callum says that he has "some pretty big plans for a new EP," and those are some plans that I can get behind. He's currently working on a bunch of new beats for the first time in years and is writing some lyrics to accompany them. "It's going to be pretty scary to make public," Callum says, "as I don't (really) consider myself a rapper. I just figure the tracks could use a little more human presence." While he may not feel it yet, I see it possibly being a solid addition to some already solid production. Moving from instrumental sounds to the addition of vocals is always a bold move and can either make or break something. Does it need that extra human presence? I'd have to say no, but it certainly has the room for it.
What's even more exciting than Callum spitting fire over dope beats is that he has "some other people involved who dabble (in rap) as well from the Parkour community." The chef is back cookin' in the kitchen, and he's not only bringing some fresh new beats to your plate but possibly the first collaborative hip-hop project stemming from our community.
Hungry?
Follow KalebTheChef on Bandcamp and Soundcloud.
Want more? Subscribe to help us create more stories like this one and to make sure that we're able to continue creating the content you love.